This year on India's Republic Day, the country's highest civilian award, The Padma Bhushan, crossed the Himalaya's and was conferred upon Indiologist Ji Xianlin. This is the first time the award given for exemplary work, by the President of India has been awarded to a Chinese.
Xianlin has translated the Indian epic the Ramayana from Sanskrit, to Chinese poetry, in addition to writing short books on India's history. Many say he is responsible for shaping a lot of what ordinary Chinese know about India. Many believe he is also Premiere Wen's mentor.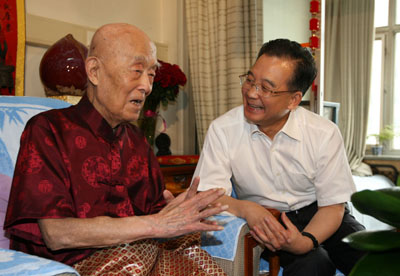 Premiere Wen and Ji Xianlin
"This is a big initiative on the part of Prime Minister Singh to develop the friendship between the two nations. It will make a lot of difference in the way a lot of Chinese view India," Jiang Kui, vice director for Indian studies at Beijing University, is quoted as saying in chaste Hindi.
Recognition of 97 year old Ji Xianlin's efforts to bridge the gap in Sino-India relations adds to the work of politicians and diplomats in recent years, it also contributes to work by Huang Tsang, the sixth century traveler-scholar and Dwarkanath Kotnis who served the poor in China in the 1940s.