While Vietnam, Cambodia, Burma & Sri Lanka seem to be taking advantage of the opportunities spilling over from India and China, Bangladesh on India's north east and China's south west corners seems to be loosing its main export – finished jute products.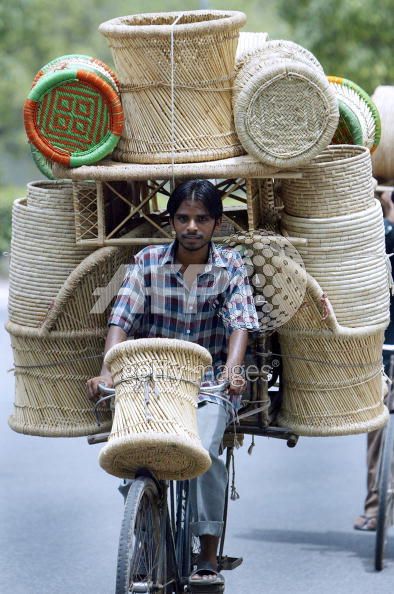 A report by Bangladesh's Daily star says that Bangladesh is loosing millions in jute exports because it exports the raw material to India and China who process it (mostly into bags (gunny sacks)) and later re-export as value added goods.
"Export price of raw jute is around Tk 13,000 a tonne, but its price becomes Tk 35,000 if it is a finished goods (sacks)," Salim Reza, vice chairman of Bangladesh Jute Exporters' Association, told The Daily Star.
According to official data, during the July-December period this fiscal (2007-08), Bangladesh exported raw jute worth US$82 million, a 13.18 percent increase from the US$72 million exports during the corresponding period in the last fiscal year.
While Bangladesh's jute goods export has declined by about US$2 million to US$166 million in the first half (till December) of the current fiscal year compared to the same period of the last fiscal year.
India, China and Pakistan have become major buyers of Bangladeshi raw jute in the recent time, exporters said.
During July-December of FY 2007-08, China has imported raw jute worth US$9.12 million from Bangladesh, while India imported US$13.72 million worth of raw jute, Export Promotion Bureau data show.
Other major buyers of Bangladeshi raw jute are Ivory Cost, Russia, Indonesia and Thailand.
"India and China, which import raw jute from Bangladesh and later sell value added products to other countries," Gopi Kishan Sureka, a local jute exporter, said.
He said: "Recently, a buyer from Taiwan has told me that he got offer from China suppliers at 10 percent less price than I offered him."
He blamed closure of government jute mills for another major reason for losing the sack export market to China and India.
Salim Reza said China and India's own consumption also increased significantly in recent time.
Bangladesh had a monopoly market of raw jute and jute goods for long. The country made bags, sacks, sand bags, hessian bags, food grade bags, yarns etc by jute.
Jute-made bags are used for packing agriculture commodities like cotton, coffee, cocoa beans etc. Sand bags made for flood control are also hessian sacks. Since the quality of Bangladesh jute is the best in the world, light weight hessian sacks made here are even much better than heavy jute bags made in other parts of the world.
According to Bangladesh Jute Exporters Association, the country's local jute demand is around 25 lakh bales per year.