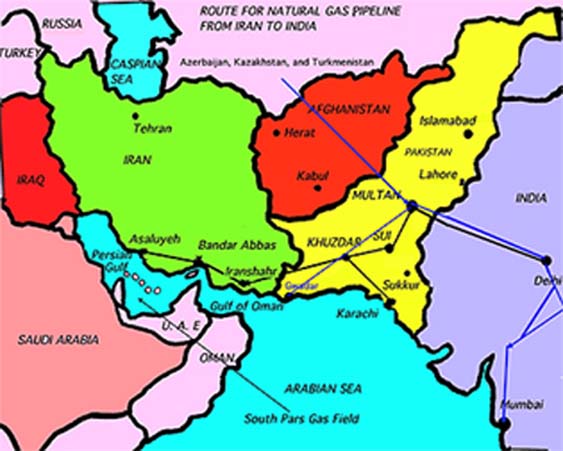 The quest for natural gas has brought age old enemies India and Pakistan to seek an agreement, allowing a pipeline from Iran to bring energy to Pakistan and India."I am very optimistic about the IPI (Iran, Pakistan, India) pipeline as it would go a along way in meeting India's energy requirements in the long run," Petroleum and Natural Gas Minister Murli Deora told The Hindu on Sunday. The US$7.4 billion , 2,700-km-long pipeline is scheduled to be completed by 2011 and would initially carry 600 million cubic metres of gas per day.
Pakistan is also trying to convince Beijing into building pipelines to transfer Iran's natural gas to China through Pakistan to meet its increasing energy demand.
In addition to the IPI pipeline, India has also agreed to the provisions of the US$7.3 billion Turkmenistan-Afghanistan-Pakistan-India (TAPI) pipeline last week. The 1,680-km pipeline from Turkmenistan will transport 100 million standard cubic metres per day of gas from the Dauletabad gas field, of which India's share is likely to be 60 mscmd.
Also as Oil peaks and stays close to the US$100 a barrel, Kazakhstan and China will work together in developing oil and gas resources on the continental shelf of the Caspian Sea. Both governments also agreed that they would create favourable conditions to ensure construction of a natural gas pipeline be completed by the end of 2009, and endorsed all agreements already signed to extend an existing oil pipeline, according to Reuters.
The existing US$800 million, 600-mile oil pipeline from Atasu in Kazakhstan to Alashankou in China shipped most of China's 6 million tonnes of oil imports from the central Asian country last year.
Beijing and New Delhi see its central Asian neighbours as strategic partners to secure oil and gas supplies for its booming economy, while the latter view the world's second and fourth-largest energy users as an indispensible market to diversify away from their Western consumers.