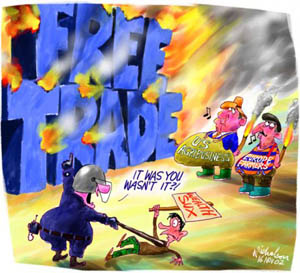 Developed and developing nations are playing the blame game over trade talks which fell apart on Tuesday. While Japan, China and India pointed fingers at each other, the EU and U.S also faced off.
Japan blamed China and India for not shouldering greater responsibilities in the WTO as emerging nations, the dragon and tiger said talks collapsed ultimately because the United States and the European Union ( also Japan's allies) were unwilling to scrap huge subsidies they pay their farmers.
"Frankly, I'd have to wonder whether China and India weighed their words and actions commensurate with their responsibility and how much they considered the overall global economy as they focused too much on their own interests," Chief Cabinet Secretary Nobutaka Machimura told the Guardian.
The criticism may sting, but the two Asian giants aren't likely to succumb to overseas pressure. In retaliation, China's Commerce Minister and head of its delegation to the Doha Round, Chen Deming, said major developed countries were the biggest beneficiaries of the talks as they set aside a large space for farm subsidies. Developed countries need to fully understand the core concerns of developing nations and should not hinder the settlement of these problems, he told Xinhua.