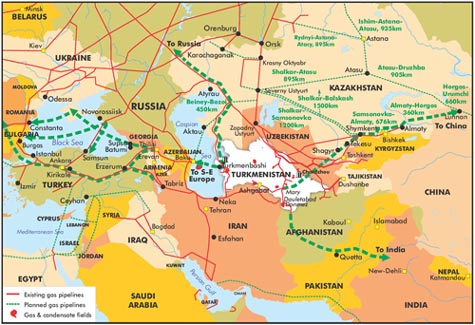 (Click on image to enlarge)
India and China's growth is now certain and in many ways predictable, in other words, its old hat. For those who have their eyes set on future powers, they are keenly watching developments in Central Asia. Energy demands for burgeoning economies now mean that Central Asia is emerging as the new powerhouse.
Analyzing soft powers in the region reveal many hard truths. Evaluating he magnanimous changes sweeping across Central Asia, the Times of India reported – that heavy-duty Chinese bulldozers groan day and night, building motor able roads that will connect towns with cities in Kazakhstan. In the countryside, Russian engineers are busy putting new cables on newly-erected towers to put a fresh spark into the rusty, unreliable electrical grid.
On the streets of Tashkent and Dushanbe, Bollywood numbers incite local people to break into impromptu jigs. And in the war-torn dust bowls of Afghanistan, American workers are building schools and hospitals in the middle of non-stop gunfire. The Indians are doing the same, at the risk of their lives. However, this is the soft side of the story efforts to woo the Central Asian republics with humanitarian charm.
One needs to dig a little deeper, peer behind barbed wire fences to get a glimpse of the hard realities griping Central Asia. Over the last few years many nations including the Americans, Chinese Russians, Indians and Nato have established military posts – laying their stake on this precious mountainous region – rich in oil, gas and minerals and natural resources.
But the competition is tough. Russia and America have already established a military presence to protect their pipelines, while energy hungry China and India are fast catching up in the race to connect Central Asia to their burgeoning economies, with China already several paces ahead of India.
Although China currently receives more than 15 percent of its oil from Iran, Beijing is always scouting for cheap, clean energy resources closer home. Energy is the Achilles' heel of China's economic growth. Beijing knows that only too well.
In its thirst for growth, Beijing has already secured much of the Kazakh oil owning to the China-Kazakhstan pipeline built in December 2007. China has also put into place a plan to build a new export corridor stretching from Kazakhstan's oil-rich Caspian basin to China. The plan also ensures that its oil supplies are not disrupted by a conflict, as is the case with present oil deliveries from the Persian Gulf and Sudan.
Lagging behind China, India has only now, begun to look for oil and gas in the region. Following the successful nuclear deal with the Unites States signed in early October this year, and at a time when energy needs are crucial to India's growth, the proposed Iran-Pakistan-India gas pipeline is unfortunately history.
However, New Delhi is finally realizing the huge potential of Central Asia as an alternative energy hub. If not Iran, India has now turned its eyes to Turkmenistan and Kazakhstan. A few months ago, Indian vice president Hamid Ansari visited Turkmenistan and Kazakhstan with a delegation, to explore the possibilities of Indian participation in offshore Caspian oil and gas blocks.
India has also formally joint the proposed Turkmenistan-Afghanistan-Pakistan gas pipeline. The 1,680 km pipeline will cost an estimated US$3.3 billion and bring natural gas into India through Pakistan. It was also with an eye on the energy resources of the region and China's growing clout in Central Asia that India set up a military base at Ayni in Tajikistan two years ago.
"The global order is re-dividing into roughly two de facto blocs one has the US at its core and the other has Russia-China at its core. Energy is the major dividing line between the two blocs," W Joseph Stroupe, a strategic analyst, recently wrote on Asia Times Online. By putting the nuclear deal on the fast track, New Delhi too seems to be all set to join the US bloc and become an active participant in the energy war in Central Asia.