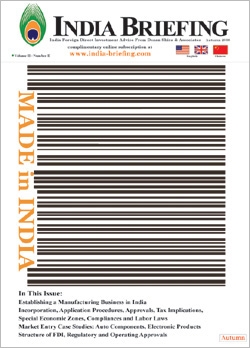 The August Issue of India Briefing, our sister publication which focuses on foreign direct investment into India is out now. This latest issue, features India's growing global stance as a manufacturing hub.
The cover story, "Establishing Manufacturing Operations In India", deals with legal, tax, financial and operational guidelines, regulations and approval procedures to assist foreign investors set up a manufacturing unit in India. Please do click on the image to download your own personal copy of the magazine for free.
While the main article features application procedures and license approval processes the magazine also features tax compliance's, labor laws and outlines for setting up a manufacturing base in India's special economic zones.
In order to bring our readers practical best practices while setting up a manufacturing hub in India, we have also included two market entry case studies on the auto components and electronic products industries, two high growth sectors in India's booming economy.
The magazine will also be available to download in Mandarin from our website shortly.
For further enquiries on Tax or legal set up in India, please do contact our India Desk at india@dezshira.com