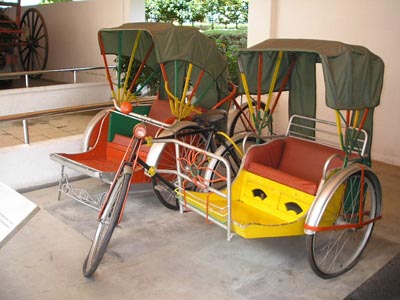 Cycle rickshaws which originated in Japan around 1868, at the beginning of the Meiji Restoration are today considered a uniquely Asian mode of transport. Although the human powered three wheeler is popular across the United States and Europe, it still remains a distinctly Asian vehicle.
The cycle rickshaw is known by varying names across Asia – cyclo in Cambodia, Laos and Vietnam, cycle rickshaw in India and Bangladesh, trishaw in Malaysia and Singapore, becak in Indonesia, traysikel or pedicab in the Philippines, samlor in Thailand and saika in Myanmar. Known by different names across the region, cycle rickshaws are great ways to commute through zig zag and traffic infested Asian lanes.
While traditional cycle rickshaws involve a man peddling or pulling commuters who either sit beside, in front of or behind him, the more modern version of cycle rickshaws or auto rickshaws are motor powered gas guzzling vehicles that zip around cities. Meanwhile, some rickshaw drivers are also doing their bit to save the environment by using solar powered rickshaws.