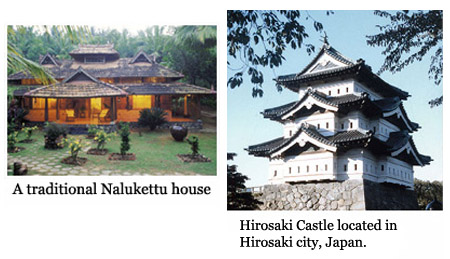 In an interesting discovery while digging into Asia's varied architectural styles, i found amazing similarities between Kerala's (South Indian State) traditional Nalukettu houses and traditional Japanese temples. Its a strange fact, endorsed by several architects in the region who have compared the layout, usage of space and shape of the houses and temples, but it is believed that the Nalukettu houses are influenced by the Japanese, history of how they were influenced however remains ambiguous.
The Nalukettu houses is quadrangular building constructed within a large compound usually the center of family life. Originally the abode of the wealthy Brahmin and Nair families, this style of architecture has today become a status symbol among the well to do in Kerala. The four wings surrounding the quadrangle courtyard follow the tenants of Vastu Shastra – specifically placed rooms to house a large joint family and their guests. Created using wood and tiles, the interior of the house is decorated with antiques made from teak, sandalwood, mahogany. However it is the traditional exterior of carved and slotted wood and has a close resemblance to East Asian gabled and thatched structures.
Indo-Japanese ties have been very strong for centuries. While Buddhism and cultural ties bound the two nations in the past, political and economic considerations have helped bolster the countries further together. In a recent meeting of Indian Prime Minister Manmohan Singh and his Japanese counterpart Taro Aso, the two countries sought ways to deepen investments in defense, science and technology and energy security. Both countries also hope to sign a free trade agreement by the end of this year, boosting bilateral trade to US$20 billion by 2010. Ties between the two nations are already strong, with approximately 30 percent of all of Japan's foreign aid being directed towards India.