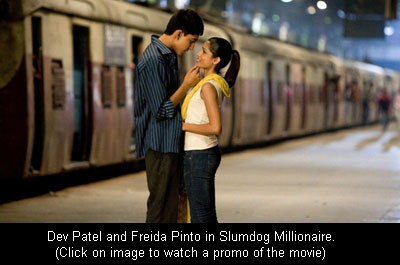 Slumdog Millionaire, the movie which won eight Oscar awards, five Critics Choice Awards, four Golden Globes, and seven BAFTA Awards has won appreciation for its music and cinematography the world over. The rags-to-riches story of a boy from Asia's largest slum – Dharavi – winning a jackpot brings out real life in India without the melodrama of Bollywood.
Released to mixed reviews in India, the movie is based on Indian diplomat Vikas Swarup's book Q&A. Swarup now India's Deputy High Commissioner to South Africa wrote the book when he was posted in London. Q&A was inspired by India's reality Tv show 'Kaun Banega Crorepati' (the Indian version of 'Who wants to be a millionaire') which ruled TRP's for more than a year.
Post the hype of the Slumdog Millionaire, the real question however remains what will happen to the slum children that were picked up for the movie? How much will the money, fame and glory change them and what impact will it have on their lives, their family's and the community?
Director Danny Boyle obviously contemplated the effect this drastic glorification would have on the children. In order not to let stardom get to them, but rather to qualitatively enrich them Boyle sent the youngest children to Aseema – a non-profit English-language school for underprivileged kids in Mumbai. He also set up a trust fund for the children which they could access when they turned 18. Besides paying the children for 30 days acting he also arranged to pay the families a small monthly stipend. Boyle has also helped buy housing for the childrens' families which live in small make shift accommodation in Dharavi.
Nonetheless, life for these children has changed dramatically and fame will make it difficult. Dharavi, the slum they live in lies in central Mumbai. It is home to approximately half a million people who work in many different industries and worship a multitude of gods. Yet, poverty binds these people who make Mumbai dynamic. They share a deep sense of community where hopes and dreams are shared and collectively nurtured. For the children of Slumdog Milionaire to move back from the red carpet to the drains that run through Dharavi will be a drastic change. They will have to deal with relatives asking for money, friends who are jealous of their English and trips abroad and neighbors who will always wonder why their starry-eyed children weren't chosen.