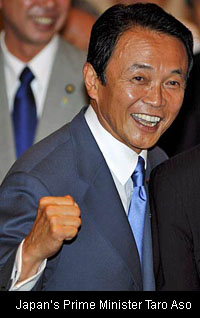 Most Asian stocks fell today, breaking a rising trend, amid concerns that government stimulus plans worldwide will take longer than some investors expect to revive global growth. Echoing the downtrend the Asian development Bank also lowered growth expectations for Asia from September's estimate of 7.2 percent to 3.4 percent this year.
The negative sentiments however came amidst news that Prime Minister Taro Aso is expected to release Japan's third stimulus plan. The new package, is expected to include at least ¥10-20 trillion (US$103-206 billion) in spending and tax cuts and marks the latest effort by Aso's unpopular government to perk up growth and disgruntled voters ahead of crucial general elections. Japan has already announced a combined spending of ¥12 trillion (US$123 billion) between its previous two stimulus packages.
In addition to the stimulus package, Japan is also trying to boost exports and revive the Asian economy by lending money to neighboring nations and the Asian development Bank. Japan has till date loaned millions to Vietnam, Indonesia and the Philippines to help them out of the financial crisis. It is also planning on increasing the amount underwritten for Japanese companies if importers of their goods in emerging nations fail to pay for the products in time. Japan is additionally expected to announce an increase in its official development assistance to around ¥2 trillion from ¥1.5 trillion during the G20 meeting later this week.