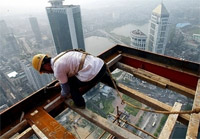 May 26 – The Metropolitan Region Development Authority in Mumbai is taking bids on an iconic 100-plus-story building in the city's Wadala district. The tender calls for an interstate bus terminal and tower to be built on 35 hectares of land.
Pre-qualifications for tenders have been asked for submission by July 2. Only construction companies with an annual turnover of US$600million will be accepted, while shortlisted firms who meet this criterion will then be asked to submit technical and financial bids on a BOT basis.
The move marks the beginning of Mumbai's evolution into a world class commercial and financial center. With the new government now able to push through previously contentious land use rights reforms, the city infrastructure and development is likely to move at a pace not seen since the re-development of Shanghai commenced in the early 1990s.
With a 100 storey height, the Wadala Tower would compete for size with other iconic mega structures in Asia such as the recently completed World Financial Tower and the Jin Mao Tower in Shanghai, the Petronas Twin Towers in Kuala Lumpar, and Taipei 101 in Taiwan.
The skyscraper has seen a comeback in recent years, thanks mostly to colossal state building projects in Asia. In addition to the recently topped out Burj Dubai (818 meters), new towers are either under construction or planned in New York (Freedom Tower – 541 meters), Chicago (Chicago Spire – 609 meters), Shanghai (Shanghai Center – 580 meters), Nanjing (Greenland Financial Center – 450 meters), Tianjin (China 117 Tower – 600 meters), Busan (Busan Lotte Tower – 510.2 meters), and Dubai, where three more skyscrapers are planned to join the current world's tallest building.