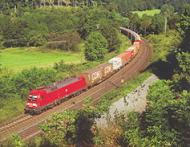 Jun. 10 – China has become the eighth nation to ratify the proposed Trans-Asian Railway Network, joining India, Thailand, Cambodia, Mongolia, Tajikistan, Russia and South Korea.
The TAR intergovernmental agreement commits signatories to coordinate the development and operation of international rail routes linking 28 countries, and will comprise 114,000 kilometers of track along major rail routes, opening up access to much of inland Asia and its landlocked nations. Asia is home to a total of 4.1 billion people, about 70 percent of the world's population, and includes 12 of the worlds 30 landlocked nations.
The United Nations Economic and Social Commission for Asia and the Pacific facilitated the development of the TAR. "For many Asian countries it can be very difficult to cross borders for a range of reasons related to infrastructure, facilitation and logistics," the agency says. "For some countries within the region, it can be more difficult for them to trade with their next-door neighbor than it can with the United States and Europe."
The agreement deals with the issue by gathering governments around the table to work out the practicalities of designing and developing an efficient network. Much of the actual track is in place, however details on dealing with different gauge networks, the efficient transport of freight, customs clearance, waiving of customs for goods in transit, and the establishment of dry ports and warehousing facilities all need to be addressed on a multi-lateral basis.
Development and investment opportunities will no doubt arise where the rail network crosses borders. Many such crossings will develop into major terminals, with full customs facilities, shipping agents, financial and logistics support services, with the potential for industry clusters being regionally developed to develop the dynamics of the specific local community.
The Trans-Asian Railway Network follows on from UNESCAP-facilitated Asian Highway Network which links 32 countries by road along 141,000km. That agreement, which was concluded in 2005, defines routes, signage, standards and negotiating procedures, and is now operational.
Further Reading:


China's Neighbors (Full color, 84 pages, US$25 plus p&p), detailing all 14 of China's neighboring countries complete with details of existing land and rail border crossings and ports, click on the book to view contents and order form
Vietnam at the Crossroads: Infrastructure key to ASEAN development
How Emerging Asia Will Help Counter the Global Downturn