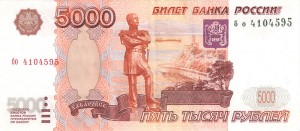 Oct. 26 – India and Russia are considering returning to a rupee-ruble trade arrangement to end the dependency on the dollar and step up economic interactions, which are set to triple in bilateral trade within five years.
Indo-Russian trade was based on rupee-ruble transactions during the Soviet era, which led to India emerging as the biggest trade partner of the former USSR in the developing world. Bilateral trade between India and the former USSR was US$5 billion in 1991.
Current bilateral trade is around US$7 billion, although this is in what is now a smaller market. Nonetheless, the feeling is that U.S. dollar-denominated bilateral trade has not assisted with any major developments in cross-border economics and is now becoming an unnecessary liability.
The Bank of Russia, the country's central bank stated the central banks for bother countries had "agreed to hold consultations to study the possibility of using national currencies transactions in foreign economic operations between Russia and India." According to the Bank of Russia, both sides discussed the issue at the 15th session of Indo-Russian working group on banking and financial matters in Hyderabad earlier this month.
Russia, which has made the ruble a fully-convertible currency in July 2008, is keen to add it into the basket of global reserve currencies on the backdrop of sliding value of the U.S. dollar.
Earlier this week, the 15th session of Indo-Russian Inter-Governmental Commission (IRIGC), co-chaired by External Affairs Minister S M Krishna and Russian Vice-premier Sergei Sobyanin, said the commerce secretary-level Joint Task Force (JTF) should monitor implementation of its recommendations to promote bilateral trade, investment and economic cooperation.
New Delhi and Moscow have set a target to increase bilateral trade to US$20 billion by 2015.
Related Reading
The Russia BRIC: Low Taxes the Key to Economic Development
The India BRIC: Mumbai Has the Global Buzz
Mittal: BRICs Rebound Evident