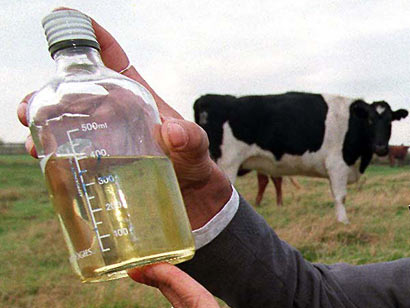 Oct. 30 – Fancy a refreshing glass of chilled ox pee? This delicious sounding bovine brew is in the final stages of development by the Cow Protection Department of the Rashtriya Swayamsevak Sangh, India's biggest and oldest Hindu nationalist group, according to the man who makes it.
Om Prakash, the head of the department, said the drink, called "gau jal", or "cow water" in Sanskrit, was undergoing laboratory tests and would be launched "maybe by the end of this year."
Apparently, the brew won't smell like urine and will be tasty. "It won't be like carbonated drinks and would be devoid of any toxins," Prakesh says. The drink is the latest attempt by the RSS – which was founded in 1925 and now claims eight million members – to cleanse India of foreign influence and promote its ideology of Hindutva, or Hinduness.
Hindus revere cows and slaughtering them is illegal in most of India. Cow dung is traditionally used as a fuel and disinfectant in villages, while cow urine and dung are often consumed in rituals to "purify" those on the bottom rungs of the Hindu caste system. In 2001, the RSS and its offshoots, which include the opposition Bharatiya Janata Party, began promoting cow urine as a cure for ailments ranging from liver disease to obesity and even cancer. The movement has often been accused of having a history of targeting foreign business in India, as in 1994, when it organized a nationwide boycott of multinational consumer goods, including Pepsi and Coca-Cola.
The cola brands are popular in India, now one of their biggest markets, but have struggled in recent years to shake off allegations, which they deny, that they contain dangerous levels of pesticide. Prakash said his drink, by contrast, was made mainly of cow urine, mixed with a few medicinal and ayurvedic herbs. He said it would be "cheap," but declined to give further details about its price or ingredients until it was officially launched. He insisted, however, that it would be able to compete with the American cola brands, even with their enormous advertising budgets. "We're going to give them good competition as our drink is good for mankind," he said. "We may also think of exporting it."
The idea has some devoted followers. For fantastic recipes, cures and information about how cow urine can change your life and make you far healthier and a better human being, the extraordinary "Dr. Jain's Cow Urine Therapy" website is here.