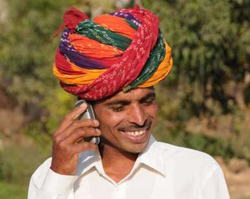 Nov. 5 – India has just reached a unique landmark with China, becoming only the second nation to achieve half a billion mobile phone subscribers. The number of telephone subscribers in India has increased to 509.03 million at the end of September with nearly 15 million subscribers being added in the month.
This beats the Indian government's target of 500 million users by the end of 2010. With this, the overall tele-density in the country has reached 43.5 percent. The wireless subscriber base has increased from 456.74 million in August to 471.73 million at the end of September, a growth of 3.28 percent.
Mobile operators offering per second billing has contributed to the surge in subscriber numbers. Wireless tele-density stands at 40.31 percent. The total broadband subscriber base has also increased from 6.98 million in August to 7.22 million in September, showing a growth of 3.29 percent. Broadband subscription is expected to get a boost once the government auctions spectrum for 3G and broadband wireless access services early next year, as part of its National Broadband Penetration Program.
Related Reading:
Broadband Kiosks Used to Penetrate Rural India
India Surpasses China as Fastest Growing Telecoms Market