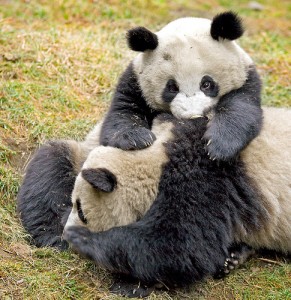 Nov. 10 – The Giant Panda, notorious for a low sex drive and fertility rates, may be encouraged towards more amorous behavior if separated from the opposite sex, a Chinese professor has claimed.
Dr. Zhang Hemin, inspecting the two pandas incumbent at Taipei Zoo, made the statement when asked about the chances of Tuan Tuan and Yuan Yuan having babies. "They may have more interest in each other after a brief separation" he said. Pandas have a brief mating season in February, and zoo-bound pandas need exercise to help them procreate.
The male is encouraged to stand on his hind legs in exercises instigated by recreating more wooden obstacles of the sort he would encounter in the wild. The male apparently does it standing up and cannot last if his hind leg muscles are not toned enough; difficult to achieve for an animal that prefers to roll around on his back chewing bamboo.
The pandas at Taipei Zoo are being slowly put through an exercise regime to try and take advantage of the February season. Pandas however tend to lose their interest in mating once in captivity. To date the primary reproduction method has been artificial insemination. This has led some scientists to try extreme methods such as showing pandas videos of other pandas mating and giving male pandas Viagra.