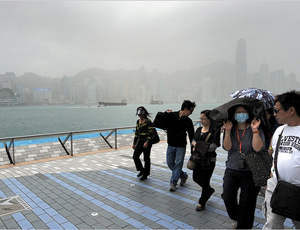 Mar. 23 – Sandstorms and smog trailing down from mainland China have settled over Hong Kong, clouding the famous view across Victoria Harbor and raising air pollution indicators up to record-setting levels as they mix with the already severe air pollution problems facing the metro region.
Hong Kong's Environmental Protection Department maintains 14 testing stations scattered around the city, with readings above 100 indicating "very high" levels of air pollution, and any level above 200 classified as "severe." Since the air pollution index was established in 1995, the highest recorded level was set in July 2008, with an air pollution reading of 202. Yesterday, levels of more than 400 were reported at several sites, with one station hitting the maximum reading of 500, according to the department's web site.
As a result, the government of Hong Kong has issued an official warning urging its residents to stay indoors and avoid physical exertion. Schools have also reportedly been asked to cancel sporting activities.
What the consequences will be regarding the annual Rugby Sevens tournament set to commence this week remains to be seen. According to Bloomberg, tournament director Warrick Dent said that teams from Canada, Zimbabwe, and Portugal trained yesterday without complaint.