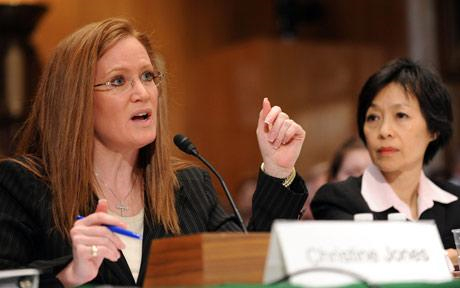 By Christian Fleming
Mar. 26 – GoDaddy, the world's largest domain name registration company, and Network Solutions, another global leader in the industry, are following Google's footsteps as they exit the Chinese market, citing "concern for the security of individuals."
Both companies testified that they have ceased the registration of new Chinese domain names during a U.S. congressional hearing on Wednesday titled, "Google and Internet Control in China: A Nexus between Human Rights and Trade."
The decision by the U.S. tech companies comes after China's Ministry of Industry and Information Technology issued new registration requirements for its citizens. According to the laws dated February 8, individuals who wish to register a domain in China need to meet with authorities in person, provide a personal photo, describe the nature of the site and, in cases involving sensitive material, gain advanced and special approval. The ministry has said that it will shut down existing domains that have not been registered with the government by the end of September.
"We were immediately concerned about the motives behind the increased level of registrant verification being required," Christine Jones, GoDaddy's executive vice-president, said at the congressional hearing. "The intent of the procedures appeared, to us, to be based on a desire by the Chinese authorities to exercise increased control over the subject matter of domain name registrations by Chinese nationals."
Ms. Jones went on to say that although GoDaddy will not offer new domain registrations in China, they will continue to support domains which have already been registered through their company, despite the Chinese government's "chilling" new restrictions.
After unsuccessfully negotiating a compromise with Chinese officials on the topic of censorship, Google rerouted all traffic from its Google.cn site earlier this week to their Hong Kong based server Google.com.hk.
While new developments come as Google's fight with China dominates headlines, the companies involved maintain that the decision to leave the Chinese market has been months in the making.
"With all due respect, this has nothing to do with Google," Ms. Jones said. "We decided we didn't want to be agents of China."
GoDaddy's decision to stop offering new domain registration services appears to be recent, but Network Solutions actually stopped processing new .cn domains back in December, citing "intrusive" government policies.
It is not only domain registration companies and Google that are looking beyond China. Dell Inc.'s founder, Michael Dell, met with Indian Prime Minister Manmohan Singh earlier this week to discuss the possibility of Dell, the world's third largest computer seller, moving a significant portion of their business from China to India.
"A very important point has been raised regarding development of the hardware sector of information technology," Indian Prime Minister Singh said at the end of a planning commission meeting on Tuesday. "This morning I met the chairman of Dell Corporation. He informed me that they are buying equipment and parts worth US$25 billion from China. They would like to shift to safer environment with climate conducive to enterprise with security of legal system."
Apparently the tax benefits experienced in India make it a much more desirable alternative to China as a manufacturing hub for Dell's exports to Africa, Europe, and the Middle East. The computer company recently opened its first PC manufacturing plant in Sriperumbudur, Tamil Nadu with a production capacity of one million computers a year.
When the news broke that the company was quitting China, Dell quickly issued a statement in an attempt to downplay the situation.
"Mr. Dell believes India also has an opportunity of becoming a hardware manufacturing hub, generating employment and adding to the country's impressive growth. Dell has not made any plans to shift its component spending at this time," the company spokesman said.
Although many companies like Microsoft see too much to gain from the burgeoning Chinese internet market to question the officials in Beijing, GoDaddy, Network Solutions, and potentially Dell now join Google in putting pressure on the Chinese government to create a friendlier atmosphere for both its own netizens and foreign businesses operating there. China can only defend their historical and political censorship under the pornography façade for so long. Just take a look at the hoops they make their own press jump through.
The pressure is slowly building and the ball is in China's court; what they decide to do next will be interesting to watch.
Related Reading
Dell Switching PC Exports from China to India