Mar. 29 – After analyzing more than five million email messages sent from over one million IP addresses since the beginning of 2010, Panda Security came out last week with a ranking of the world's top spammers by country and city. India was ranked second as a country, with New Delhi and Mumbai ranking among the world's top 10 spam origins by city.
The top five countries were Brazil, India, South Korea, Vietnam, and the United States, with China coming in at number 11. The top five cities were Seoul, Hanoi, New Delhi, Bogotá, and São Paulo, with Mumbai coming in at 6th and Beijing ranking 14th.

The January and February rankings by country look like this:

The January and February rankings by city look like this: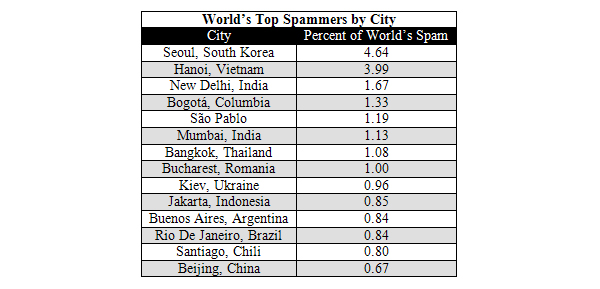 Spam is used primarily as a marketing tool for illicit products using social engineering techniques such as the promise of videos or pictures of exotic women, according to Panda Security's report. The internet security company recorded approximately 550,000 spam messages originating from India over the last two months.