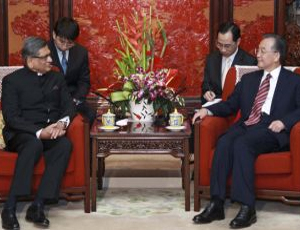 Apr. 8 – In the wake of a four day series of meetings between their respective foreign ministers, China and India agreed to establish a hot line between the two nation's most senior officials.
This is in response to problems caused by various border incidents over the past two years and to nip any unauthorized aggressiveness in the bud. The agreement to set up the hot line was signed and has been hailed as a "confidence building measure." The line is expected to be in place within a month. China was also asked to support an Indian bid for a permanent place among the U.N. Security Council, a measure that China has indicated tentative support for.
Meanwhile, U.S. Treasury Secretary Timothy Geithner, fresh from signing bilateral trade and financial deals with India in New Delhi, has flown directly to Beijing to meet with Chinese Vice Premier Wang Qishan in a closed door session today. The position of the Chinese yuan against the U.S. dollar peg is expected to be the main subject of discussion. In anticipation, yuan forward contracts have been trading at their highest level for 11 weeks on speculation the peg may be scrapped.