By Joe Drury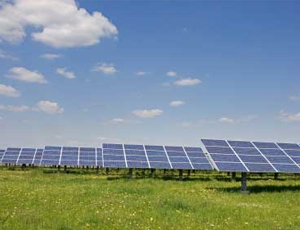 Apr. 16 – India's thirst for natural resources is not comparable to China and its impressive 7 percent average economic growth is not as high as China's thundering 9 percent, yet the country faces a dire energy shortage that needs to be addressed with clean technologies as soon as possible.
If population alone is an indicator, India's resources could be more strained than China's in the future. By 2030, India's overall population is projected to surpass China's, and the ranks of the middle class will swell to 170 million.
The expanding population increased overall energy demand by 3 percent in the last 15 years, while demand for oil and coal has quadrupled.
In addition to severe water, air and land pollution produced by conventional energy, India also suffers from a sizable annual energy deficit. From April to December of 2009, energy deficits ran at 9.8 percent, forcing factories across the country to enact blackout periods during peak demand.
Low energy capacity forced India to rely on imports in this period of increasing demand. Imports for coal grew to 16.7 percent from April to December of 2009, up from the 9.7 percent growth in 2006-2007, an increase that exposes India to rising commodity prices and negatively affects its energy security.
The Indian government has taken action to offset these risks by investing in the increasingly lucrative clean technology industry. Although India's cleantech market is not nearly as mature as China's, focused government activity and potential opportunities have heightened interest in the sector.
"Businesses seem to be still trying to understand market entry into India […]. There's been an acknowledgment that India is going to be a clear player in the cleantech market," wrote Lisa Sibley of Cleantech Group in a March 2010 staff analysis.
With 500 million people lacking access to electricity and instead relying on dirty coal, this growing economy indeed has the potential to make leaps and bounds in renewable energy and clean technology.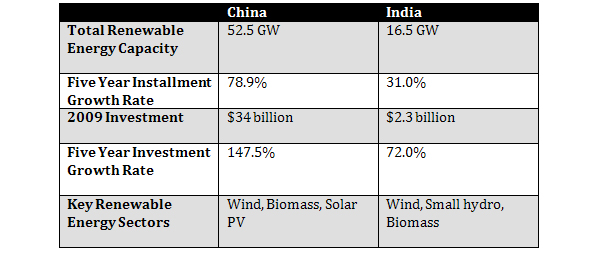 Investment Climate
In 2009, Indian cleantech attracted $2.3 billion in private investment, placing it tenth in the G-20's investment ranking, well behind China's leading position at US$34.6 billion. The market's five-year growth rate was 72 percent, which put India ahead of developed countries like Canada but still behind China's 147.5 percent growth.
Indian clean tech attracted US$190 million in venture capital, down 13 percent from the previous year. Compared to China's US$331 million in VC investments, roughly equal with its 2008 figures, India's drop in investment reflects both the impact of 2009's economic downturn and slight vulnerability of its still-nascent cleantech market.
Despite this downturn in private investment, the government remains committed. The Union Budget of India for 2010-2011 allocated an unprecedented 46 percent of the total budget to develop infrastructure. This includes a 61 percent budget increase totaling US$223.5 million directed to the Ministry of New and Renewable Energy as part of India's comprehensive National Action Plan on Climate Change.
At the end of 2009, the government also launched the Nehru National Solar Mission, a program dedicating $932 million to expanding solar power infrastructure.
Indicative of India's other clean technology incentives, the Solar Mission reduces capital costs for solar energy investors by granting a 5 percent concessional duty on all equipment needed for installing photovoltaic and thermal units.
"The rapid spread of solar lighting systems, solar water pumps and other solar power-based rural applications can change the face of India's rural economy," affirmed Prime Minister Manmohan Singh at the launch of the Solar Mission in Jan. 2010.
"We intend to significantly expand such applications through this Mission. As a result, the movement for decentralized and disbursed industrialization will acquire an added momentum," he added.
Non-solar related policies include reduced duties on permanent magnets and electricity generators encourage the development of wind power, as well as an exemption from basic customs and special duties for geothermal energy generation.
The sector that attracts the most investment is energy generation, which, including bioenergy and small hydropower largely mirrors China top cleantech industries although not the same volume. India is also one of the world's top producers of wind energy with an annual 10,891 megawatts, just trailing China's 12,200 megawatts.
Market Outlook
With so much needed infrastructure construction—80 percent of the India of 2030 is yet to be built—and new government backing, the opportunities in smart infrastructure development and energy are great.
Of the many prospects that exist, waste management and bio-fuels are poised to grow. India generates up to 33,0000 million liters of wastewater a day in its urban areas, despite the fact that its limited capacity can only treat 20 percent of urban waste.
Regarding bio-fuel, Indian Railways is one of the largest and busiest railway networks in the world, and also the largest single consumer of high-speed diesel (HSD) in the country. A 10 percent bio-diesel and HSD oil mixture can be used in existing engines without any modification.
On the other hand, India's relatively developed and subsidized domestic solar energy, wind and hydropower sectors may provide a challenge for foreign firms hoping to enter the market and directly compete with local firms, much like China
Complex bureaucracy also inevitably acts as a barrier to efficiency. The policy disconnect between government ministries, states, and sub-sectors makes it difficult for direct national policy to penetrate the layers of red tape and local interest that separate political jurisdictions.
Democracy is not a particularly efficient system of governance, and the inherently disorganized nature of India's parliamentary democracy also makes sustained, long-term cleantech planning and funding more vulnerable to the head butting of political parties.
In this constant management flux, India is still working to overcome the traditional obstacle of clean technology that has previously hampered its development worldwide: high capital costs and high risk. China is solving the problem with forward-thinking, deep government commitment, but India still needs to navigate past this barrier.
"India's problem is not lack of knowledge but the lack of successful transition from research-based knowledge to sustainable commerciality," said Jairam Ramesh, Minister of Forests and the Environment in an interview with the Times of India.
Related Reading
A Green Leap Forward