By Jessica Tou
Apr. 23 – The Business Advisory Council (BAC) of the Greater Tumen Initiative, a mechanism supported by the United Nations Development Program focused on inter-governmental relations and economic development between the nations of China, Russia, Mongolia and the Republic of Korea, has just concluded in Changchun, Jilin Province in Northeast China.
On April 19-20, the Jilin government welcomed the BAC for the fourth Annual Business Advisory Council Meeting. Organized by the Tumen Secretariat, the meeting's objective was to discuss the current investment climate in the area as well as attract more foreign investment to the developing region.
Participants of the meeting had the opportunity to have a round table discussion with the key officials of the Bureau of Economic and Technological Cooperation of the Jilin Provincial Government. Presenting the "Cooperation and Development Planning Outline of the Tumen River Area of China – Setting Changjitu as the Development and Opening-up Pilot Area," the director of the Tumen River Development Division, Wang Xiaoping, first spoke of the significance and benefits of investing in the region and then opened the floor for questions to the BAC.
In addition to receiving the latest news on the regional government's economic initiatives, participants of the conference spoke with international firms who have successfully established an investment in the Northeast Asia region, such as Fawer-Johnson Controls Automative Systems Company (FJC). Founded in 2001 as a joint venture of Changchun FAW Sihuan Automobile Co. Ltd. and USA Johnson Inc, the Fortune 500 company provided unique insight on the benefits and barriers of doing business in the region, including information on human resources, regulations, and local living environment. On the second day of the conference, the BAC was given a technical tour of the FJC facility, which covers 123,000 square meters and currently has 3,500 employees.
With the attendance of leading business executives from each of the four participating regions, the meeting provided a valuable forum to assess the critical investment issues in the Greater Tumen Region, with the intention to be presented to the respective governments later this year. Commenting on the objective of the meeting, BAC co-chair James Zimmerman highlighted the importance for the private sector to provide specific recommendations for the improvement of the business environment to the public sector.
Established in 2007, the Business Advisory Council is a platform for permanent dialogue and partnerships between the government and the private sector. The BAC, an institutional platform aimed to improve the investment environment of Northeast Asia, consists of senior business leaders and foreign investors of the four membership countries: China, Mongolia, South Korea and Russia. More information regarding the BAC or the Greater Tumen Initiative can be found on the Greater Tumen Initiative web site.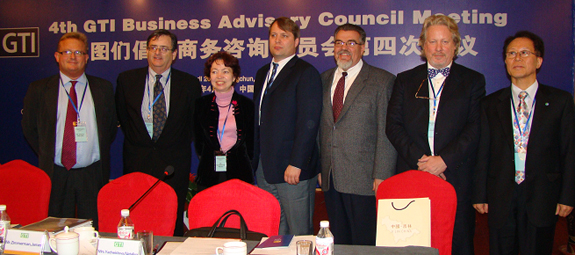 Pictured: (L-R) BAC executive board members Stephen Phillips (CEO, China-Britain Business Council), James Zimmerman (chairman emeritus, American Chamber of Commerce China) and partner, Squire Sanders & Dempsey), Dr. Nataliya Yacheistova (Director UNDP GTI Secretariat), Shoghi Tufts (president, Tufts Consulting), Charlie Ross (president, Morning Star Science & Technology), Chris Devonshire-Ellis (principal, Dezan Shira & Associates), Lee Hae-Doo (secretary-general, Secretariat, Association of Northeast Asia Regional Governments)
Related Reading
Changjitu Regional Border Zone Gets State Level Approval