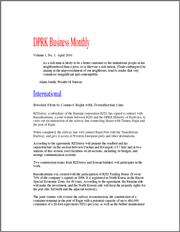 Apr. 29 – Paul White's excellent monthly report on North Korea is now available with this issue covering the connection of the Rajin Port with Russia's rail network and the proposed development of the Rajin Special Economic Zone with Russian funding. It also reports on the increase of DPRK trade with China, which hit a record US$300 million for the first two months of 2010.
India's Global Steel Holdings and their talks in Pyongyang regarding the Musan Iron Ore mines is also covered in the report. The Indian company is interested in taking a stake in the North Korean company, whose deposits are valued at US$1.5 trillion.
This month's issue also contains an interesting interview with James Hoare; the former British chargé d'affaires who established the British Embassy in Pyongyang in 2002.
It's an excellent read for those involved with or interested in North Korean trade and development. Click on the image at right to downloaded the issue.