Jun. 3 – Expatriate business executives believe India has the most inefficient bureaucracy in Asia, according to a survey released on Wednesday by Hong Kong's Political and Economic Risk Consultancy (PERC).
The report ranked 12 leading Asian countries and utilized a scoring system running from one to 10, where 10 was the worst possible scenario. India topped the list with a score of 9.41, followed by Indonesia (8.59) and the Philippines (8.37).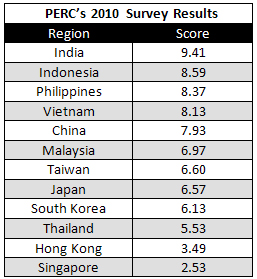 "Politicians (in India) frequently promise to reform and revitalize the Indian bureaucracy, but they have been ineffective in doing so – mainly because the civil service is a power center in its own right," the PERC report said, adding that dealing with India's bureaucracy "can be one of the most frustrating experiences for any Indian, let alone a foreign investor."
In comparison, China came in at number five on the list with a rating of 7.93 – not encouraging by any means, but a good deal better than India. PERC believes that, while bureaucratic red tape is a serious problem in both China and India, "the differences in the political systems of these two countries have made inertia much worse in India than in China."
Singapore got top marks in the survey with a score of 2.53 followed fairly closely by Hong Kong which earned a score of 3.49.