Business Cultural Differences Affecting China and India
(Part one of a five part series)
Jun. 9 – Importing a business into another country is never easy, and this is especially so in the case of China and India. The countries have different administrative systems and do not necessarily agree to international conventions surrounding territories and descriptions. Then there are the immense language and written language issues. If these are not recognized, embarrassment and even criminal action can follow.
As my practice Dezan Shira & Associates has found out, care needs to be paid when replanting a subsidiary root of a business from one country to another. Not all systems or points of reference are the same. Dezan Shira & Associates first moved to establish operations in India four years ago (after 14 years extant only in China) and we found many surprising cases where what we thought we knew from a cultural perspective needed additional work and attention to detail. That said, we are also aware of aspects of China that may not be familiar to Indian or other overseas based businesses. Here are a few examples:
TERRITORY
China
Never omit Taiwan, from any published maps of China, including those on your China website or brochures. It breaches the "One-China" policy and can have criminal repercussions.
India
The official Indian map of India is different to the map provided by the United Nations, redrafting certain sections of Kashmir. It is a criminal offense to publish inaccurate non-Indian official maps omitting this. It may mean, for the India market, using official Indian maps of the territory and not relying on internationally common versions.
LANGUAGE
China
China possesses two types of written characters, simplified and traditional. Simplified is used in Mainland China, traditional in Hong Kong, Taiwan, and by most of the overseas Chinese diaspora. The difference derives from when Mao Zedong revolutionized the Chinese language on the mainland in 1954 to improve literacy levels. Other territories at the time not under mainland control or with large Chinese diasporas resisted the use of the simpler version. China also has several officially recognized regional languages – there are seven distinct languages on a standard Chinese banknote for example – many regional dialects, and even historical differences in the romanization of the Chinese language (Beijing vs. Peking for example). Care needs to be paid to which market segment is to be addressed.
India
Hindi in the Devanagari script is the official first language of India, though the constitution also recognizes English. Indian states are additionally free to further recognize regional languages, leaving each state free to, via its legislature, adopt Hindi or any language used in its territory as its official language or languages. Examples include include Kokborok in Tripura; Mizo in Mizoram; Khasi, Garo, and Jaintia in Meghalaya; and French in Pondicherry. Altogether, close to 50 official languages are in common usage on a regional basis across the country. The romanization of Devanagari has also been erratic, with certain cities especially being interchangeable in names: Calcutta (Kolkata), Bengalaru (Bangalore), Puducherry (Pondicherry) and Bombay (Mumbai).
A striking example of the script differences can be seen in this Dezan Shira & Associates advert promoting the firm's India practice from a China-India cross border perspective.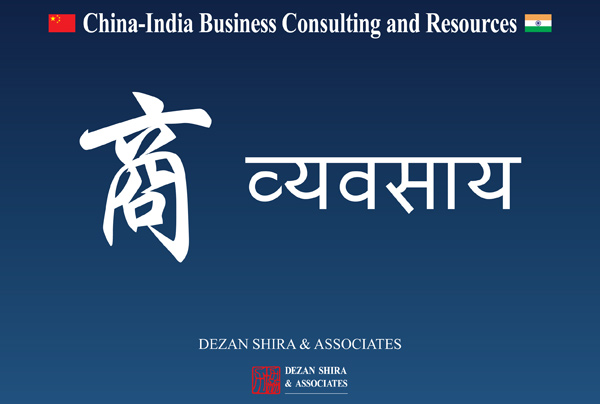 The use of English, Chinese and Devanagari get the message across – but required three nationalities of staff in both China and India to create.
FOOD
China
There is an old saying about Guangdong Province in China: "The people will eat everything with legs except a table, and anything with wings except an aircraft." Chinese cuisine is famous for its diversity and wide range of ingredients used. Some may be off-putting to the uninitiated – steamed silkworms for example – but generally, the Chinese have very liberal palates and are experimental. If it tastes good, it's eaten. But then again, large parts of China are strongly Muslim, and pork, so much a national staple, will not be found in many central or western provinces. Buddhism too has had an impact, and many Chinese are essentially vegetarian as a result.
India
Like China, Indian cuisine is one of the great cuisines of the world; however Indian religious sensibilities dictate a far more serious approach to the preparation and consuming of food than that in China. Food prepared with animal fat or even prepared in the same kitchen can be a serious matter, and the Jain population – who are prevalent in the business community – will not eat any food that may have disturbed a non-vegetarian life form, including root vegetables. I recall a packed Air China 757 flight from Delhi to Beijing where 75 percent of the passengers refused all food (seven hours) because Air China had not considered the mass needs of a vegetarian manifest. Such considerations need to be taken into account when entertaining Indian clients or businessmen. It is a sensible matter of courtesy to ask beforehand.
Chris Devonshire-Ellis is the principal of Dezan Shira & Associates and its founding partner. He established the firm's China operations in 1992 and its India practice in 2006. He regularly commutes between China and India. Contact: [email protected].
Chris also contributes to Asia Briefing's other titles, India Briefing, China Briefing and Vietnam Briefing.

Related Reading
Indianizing a China Business (Part Two)
Indianizing a China Business (Part Three)