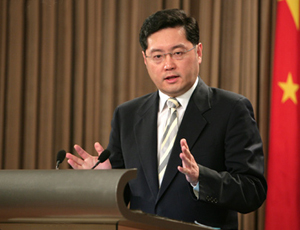 By Christian Fleming
Jun. 23 – China's foreign ministry spokesman Qin Gang stated on Tuesday that discussions on the exchange rate of its national currency would be off limits during the upcoming G-20 meeting in Toronto this weekend, adding that the group should instead focus on contributing to the "world economic recovery and strong, sustainable and balanced growth, instead of playing the blame game and imposing pressure."
Beijing officially released its de facto peg to the dollar in a statement on Saturday after holding its exchange rate at roughly 6.83 to the dollar since mid-2008; a move largely seen to give Chinese exporters an unfair competitive advantage on the world trade scene.
China, on the other hand, has maintained that "the stability of the RMB exchange rate has played an important role in mitigating the crisis' impact," and stresses that, in the end, the exchange rate mechanism of its national currency is an "independent" decision.
"We will continue to steadily advance the reform of the exchange mechanism of the RMB under the principle of independent decision-making, controllability, and gradual progress," Qin said, delivering the same bottom line that has been reiterated for months from the likes of President Hu Jintao and Premier Wen Jiabao.
"This direction will stay unchanged," he added.
It is understandable that China wants to appear strong in front of its domestic audience, but the decision to let the yuan revert back to the pre-crisis appreciatory policy is widely seen as a preemptive bid by the Chinese government to avoid a collective thrashing at the upcoming meeting. China has recently received criticism regarding its currency policies from many of its fellow G-20 members, including Brazil, India, Japan, the European Union and, of course, the United States.
Despite the Chinese government's announcement over the weekend, officials have clarified earlier this week that any changes to the national currency will be gradual and will not exceed the previously determined trade ban of 0.5 percent per day. So, while yuan trading opened on Tuesday at an optimistic rate of 6.79 to the U.S. dollar, it has since gone back up to almost 6.82 by noon on Wednesday. With some leading economists estimating that the yuan could be undervalued by as much as 40 percent, this is not the kind of fluctuation many had hoped for and will likely not appease China's critics at the upcoming meeting on Saturday. The United States, at least, will have something to say on the issue – regardless of whether or not China declares the topic "off the table."