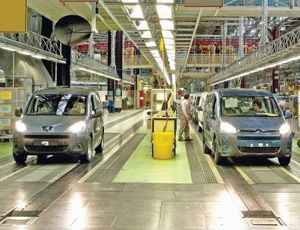 Jul. 8 – French automaker PSA Peugeot Citroen said on Wednesday that it is teaming up with China's Chang'an Automobile Group in what will be its second industrial joint venture in the East Asian country.
Jean-Marc Gales, the brand head of Peugeot and Citroen, said at a news conference on Wednesday that the new joint venture with Chang'an Auto will be officially announced on Friday, but declined to give further details.
Peugeot Citroen, Europe's second largest automaker after Volkswagen, reported a 16.9 percent increase in first-half sales this year, helped significantly by solid demand in China where the French company already has a longstanding joint venture with Dongfeng Automobile.
According to Citroen head Frederic Banzet, Citroen sales in China are already up 14 percent this year and he expects continuing double-digit sales growth going forward.
"China is the number one priority for Citroen's development," Banzet said.
There have, however, also been reports that Peugeot Citroen is looking to revive a US$884 million manufacturing project in India's Andhra Pradesh, but Gales declined to comment on that matter.
"We have always said that our priority for the moment was China, then Latin America," Gales said to reporters. "Of course there are plans for India…we have not forgotten it. But I have nothing new to tell you."