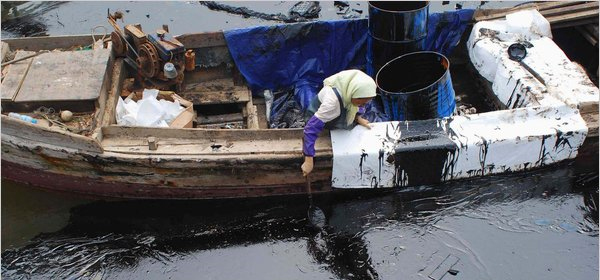 Jul. 26 – As many as 8,000 workers, 1,200 fishing boats, 41 oil-skimming vessels, 23 tons of oil-eating bacteria and an untold number of volunteers have all helped to clear the more than 150,000 tons of crude oil that spilled into the ocean and spread over 946 square kilometers (588 square mile) after two pipeline explosions lit up Dalian's skyline 10 days ago.
"By 6 p.m. yesterday, the oil spill has been all removed and the slick has basically been cleaned…the contamination has not spread to international waters or the Bohai Sea," Chinese government officials said on Monday, according to the Dalian Daily.
Though, it remains to be seen if an oil spill this large "has been all removed," especially when many of the workers employed were using soup ladles, fishing nets, and their bare hands to aid their cleanup efforts in some cases.
"The citizens-turned-cleaners we saw yesterday in the sea basically did not have any protective gear and could only use their hands to clean up the oil," Zhong Yu, a Greenpeace campaigner, told the AFP on Friday.
The Maritime Safety Administration painted a more realistic picture of the current situation.
"So far, large pieces of the pollutant have been successfully removed or controlled," said MSA executive deputy director Chen Aiping on Monday, according to a statement posted on the ministry's web site.
A manager of a cleaning company working on the relief efforts, surnamed Yang, told the China Business News on Monday that it may take another week to contain the spill while estimating that cleanup costs could total over US$148 million.
Dalian opened two of its oil berths, one capable of docking vessels up to 80,000 deadweight tons and the other capable of berthing tankers up to 150,000 deadweight tons. The main crude oil terminal, capable of berthing 300,000 deadweight ton vessels, remains closed.