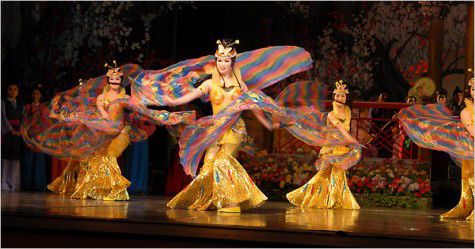 Jul. 30 – North Korean culture has been wowing Chinese audiences this summer as the Sea of Blood Opera Company has been touring the country. Named after a revolutionary film written by Kim Il-sung in 1961, the company has been traveling China to mark the 60th anniversary of Sino-North Korean relations.
Performing the Chinese classic "Dream of the Red Chamber," the company has been playing to sell out theaters. Originally intended as a four day run in Beijing, the reviews have been so good that the troupe has extended its run for two months, during which time they have played to packed houses from Hohhot to Fuzhou. The tours final performance was last week in Dalian.
The North Korean people have been directed by the leader, Kim Jong-il as needing more exposure to world culture. Consequently, "Dream of the Red Chamber" has played to over 100,000 people in Pyongyang, personally directed by Kim. A production of Tchaikovsky's famous opera Eugene Onegin has also taken place.
The Sea of Blood Opera Company incorporates traditional Korean melodies and dance with revolutionary elements, much as China did in the Cultural Revolution with the famous ballet of the time "Red Detachment of Women."
Opera lovers who missed the Sea of Blood have another chance – they are back in Pyongyang rehearsing another Chinese classic, "The Butterfly Lovers" and are expected to tour China again early next year.
A breakdown of the Sea of Blood's entire repertory can be found courtesy of Koryo Tours here.
Related Reading
Anyone for North Korea?