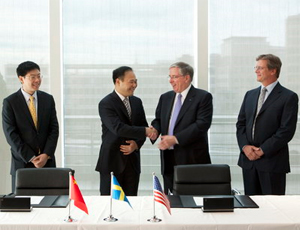 Aug. 3 – China's Zhejiang Geely Holding Group completed its acquisition of Ford Motor's Volvo brand for US$1.5 billion yesterday in the largest ever takeover by a Chinese automaker.
After coming to terms on the deal in late March, Geely's chairman Li Shufu met with Ford's chief executive Alan Nulally in London on Monday to make the transaction official during a formal signing ceremony.
"This is a historic day for Geely, which is extremely proud to have acquired Volvo cars," Li said. "This famous Swedish premium brand will remain true to its core values of safety, quality, environmental care and modern Scandinavian design."
Although the original agreement discussed in March was for US$1.8 billion, both parties have agreed to "true up" the difference at a later date when a final assessment of Volvo's value has been completed. Geely said it has paid Ford US$1.3 in cash and issued a US$200 million loan note.
Geely has stated that it intends on maintaining Volvo's headquarters in Sweden and that it will keep the company's manufacturing plants running in Sweden and Belgium. The Chinese automaker also said that it intends to increase production of Volvo automobiles to 600,000 units annually, a 50 percent increase, within five years.
"Volvo is an excellent brand with a strong product line, and it has returned to profit after a successful restructuring," said Mulally. "We are confident Volvo has a solid future under Geely's ownership."
Related Reading
China's Geely Motors Finalizes Volvo Purchase