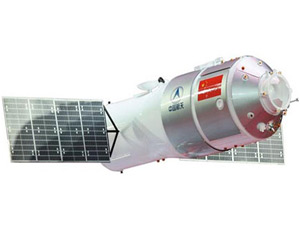 Aug. 18 – China has completed construction on its first unmanned space module, the Tiangong-1, and expects the primary piece of its space station to be orbiting the Earth by next year, according to state-run media.
After undergoing further electrical, mechanical, and thermal testing, the 8.5-ton Tiangong-1 is scheduled to lift off from China on a Long March 2F carrier rocket sometime in the first half of 2011.
Tiangong, meaning "heavenly palace," will then serve as a docking station as three Shenzhou spacecraft – the Shenzhou-8, Shenzhou-9, and Shenzhou-10 – meet up with the space module over the following years. The Shenzhou-8 is currently under construction and, barring any setback in the Tiangong program, will dock with the Tiangong-1 as it orbits the Earth sometime in the second half of 2011. The Shenzhou-9 and Shenzhou-10 spaceships are scheduled to be launched in 2012.
Eventually, after the Shenzhou dockings, Tiangong-1 will serve as a manned space lab and will expand as the Tiangong-2 and Tiangong-3 merge with the primary space module. The Tiangong-2 is scheduled to be completed by 2013 and the Tiangong-3 will be finished sometime later, possibly between 2014 and 2016, according to Chinese authorities.
In 2003, China became the third nation, after the United States and Russia, to independently send a manned craft into space as Yang Liwei piloted the Shenzhou-5 into orbit for 21 hours before returning to Earth.
A possible Chinese manned lunar mission has been proposed for 2017, but remains unlikely.