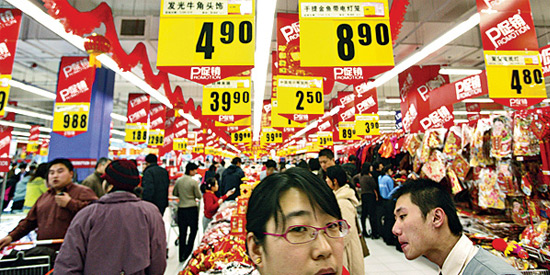 Aug. 20 – Strong economic growth across emerging Asia over the last few decades, and the subsequent rise of the region's middle class, is beginning to transform the area from its long-held position as the factory of the world into a massive consumer-driven market.
"Developing Asia's middle class has increased rapidly in size and purchasing power as strong economic growth in the past two decades has helped reduce poverty significantly and lift previously poor households into the middle class," says a new study released by the Asian Development Bank on Thursday.
In a special chapter of ADB's Key Indicators for Asia and the Pacific 2010, titled "The Rise of Asia's Middle Class," the Manila-based bank states that Asia's emerging consumers are likely to assume the traditional role of the U.S. and European middle classes as global consumers, and to play a key role in rebalancing the world's economy.
The study defines Asia's middle class as individuals maintaining consumption levels between US$2 to US$20 per day. Broken down, he lower-middle class falls between US$2 and US$4 per day, the middle-middle class spends between US$4 and US$10 per day and is able to save and consume nonessential goods, and the upper-middle class consumes between US$10 and US$20 per day.
By 2008, it was estimated that the number of middle class individuals living in emerging Asia had risen to 1.9 billion, or 56 percent of the region's population.
This somewhat lower definition of middle class, compared to many developed Western countries, has lead to a rise in "frugal innovation" across Asia as companies seek to tap into this market. India's Tata Nano, the world's cheapest car, and China's US$12 lithium-ion battery provide good success stories.
Meanwhile, the consumption of consumer durables has been going through the roof as more individuals can afford products such as refrigerators, televisions, computers, washing machines, mobile phones, and automobiles. Car sales in China and India have been growing between 15 percent and 30 percent a year for the last decade and they are now the world's first and second largest mobile phone markets, respectively.
Consumer spending in developing Asia reached US$4.3 trillion in annual expenditures for 2008. If consumption levels continue to expand at the current rate, emerging Asia will likely reach US$32 trillion in annual expenditures by 2030 and comprise roughly 43 percent of worldwide consumption, the study says.
While the rise of emerging Asia's middle class is good for both regional and global economies, this massive increase in consumer spending is also contributing to environmental, ecological, and health problems. Overdevelopment, overexpansion, and the environmental destruction necessary to facilitate rapid growth may be to blame for the floods and mudslides currently devastating western China and much of Pakistan. A rise in obesity in China and India is also cause for concern, especially when much of emerging Asia's population is still living in poverty. China has almost 11 percent of its population living below the minimal level of dietary consumption while over 20 percent of Indians are dealing with the same problem.
Policymakers need to foster healthy growth, but at the same time there needs to be regulations put in place that limit the negative externalities typically associated with it. In that regard, the ADB report has come up with its Millennium Development Goals, namely:
Eradicate extreme poverty and hunger
Achieve universal primary education
Promote gender equality and empower women
Combat HIV/AIDS, malaria, and other diseases
Ensure environmental sustainability
Develop a global partnership for development
While the rise of Asia's middle class "will present some policy challenges," the report concludes that it also holds "unimaginable potential opportunities for the region and for the world."