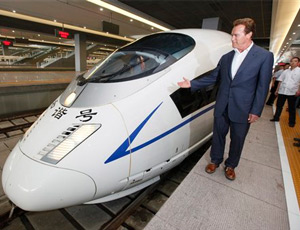 Sept. 14 – California Governor Arnold Schwarzenegger finished up a brief tour of the Yangtze River Delta Region on Monday with high hopes that China will be in the bidding for a contract to build the western U.S. state's proposed US$40 billion high-speed railway.
"We want China, for instance, to invest in our high-speed rail, to build our high-speed rail, to be part of this bidding process we are going through," Schwarzenegger said during a speech in Shanghai on Monday.
"Many countries will be bidding to build our high-speed rail. And we are also looking for financing from China," Schwarzenegger added.
China was the first stop on the governor's week-long tour of Asia aimed at selling investors and developers abroad on the U.S. state's 432-mile planned high-speed rail network linking Los Angeles and San Francisco. Specifically, California is encouraging China South Locomotive & Rolling Stock Corp., East Japan Railway, and South Korea's Hyundai Rotem Co. to bid on the rail project, in addition to firms from France and Germany. The governor is personally test-riding each country's bullet trains during his Asian tour.
After his speech in Shanghai on Monday, Schwarzenegger traveled to nearby Tokyo Monday afternoon and has already garnered a loan offer from state-owned Japan Bank for International Cooperation to help pay for the high-speed rail system. After completing his affairs in Japan, the governor will head to South Korea this evening before heading back to the United States.
Traveling alongside some 100 Californian business delegates, Schwarzenegger is also using the opportunity to peddle his state's technology, tourism, and wines to the East Asian market. Officials from China and California signed four memorandum of understanding on Monday to boost bilateral investment and cut greenhouse gas emissions.
"California companies will soon be working closer with Chinese companies and new frontiers in technology exchange and venture capital investment will be realized," Schwarzenegger said. California is already China's fourth largest trading partner.
While visiting the Shanghai 2010 World Expo on Sunday, the former Mr. Universe and Hollywood action star announced that California would place a bid to host the 2020 World Expo in the state's technology center of Silicon Valley.
"Shanghai demonstrated that when you host the World Expo, the world comes to you and I want the world to come to California," Schwarzenegger said.