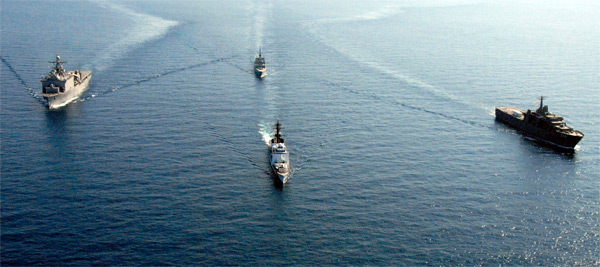 Sept. 20 – U.S. President Barack Obama and leaders from the 10-member Association of Southeast Asian Nations will meet in New York City on Friday to discuss how the two parties can strengthen economic and strategic cooperation, with specific focus placed on the South China Sea territorial dispute.
The U.S.-ASEAN alliance intends on releasing a joint statement following the meeting within which Washington wishes to stress the importance of regional stability, freedom of navigation, respect for international law, and unimpeded commerce in the South China Sea, The Associated Press reports after reading an early draft of the statement on Sunday.
Washington suggests that the joint statement should include a provision opposing the "use or threat of force by any claimant attempting to enforce disputed claims in the South China Sea."
Beijing claims almost the entirety of the South China Sea as its own and recently declared that the region and its hundreds of islands are within China's "core interests" alongside Taiwan and Tibet.
Washington tested the Chinese government's resolve when U.S. Secretary of State Hillary Clinton called the dispute "a leading diplomatic priority" for the United States during an ASEAN regional forum in Vietnam over the summer.
Beijing was initially outraged by the comments, claiming that the United States was in no place to be interfering in a regional issue, but top U.S. officials recently told ASEAN ambassadors in Washington that Clinton's comments had the desired effect, with China "clearly moved back to a more collaborative approach."
Brunei, China, Indonesia, Malaysia, the Philippines, Taiwan, and Vietnam all have claims of some form in the South China Sea. In addition to thriving fishing areas, the sea is believed to hold vast oil and natural gas deposits and is of immense strategic importance to Beijing due to the volume of trade that passes through on ships bound for China's coast.