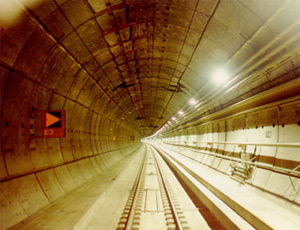 Sept. 21 – The South Korean government is looking into constructing underwater tunnel links that would send high-speed trains to China and Japan, officials at the country's Ministry of Land, Transport and Maritime Affairs said on Tuesday.
The ministry's Korea Transport Institute began work on a feasibility study last year and is expected to complete the report before the end of the year.
"But this means the government is only reviewing the technical possibility of the projects. It may take tens of years before we start the project even if the report says it is technically possible as there are many other aspects we need to consider," a ministry official speaking to South Korea's Yonhap News Agency forewarned.
The official explained that the projects may not be realized in the near future due to the massive amount of funding required and the need to come to an agreement with the Chinese and Japanese governments.
The ministry has suggested the Chinese city of Weihai in Shandong Province as a suitable connection for the South Korea-China underwater train tunnel project, although the Chinese city is over 300 kilometers from South Korea's coast. The South Korea-Japan project will likely connect the Korean port city of Busan to the Japanese port of Fukuoka on Tsushima Island some 220 kilometers away.
A third tunnel is also under consideration that would connect the mainland South Korean city of Mokpo to the country's southern-most island of Jeju. Government officials estimate that each of the three projects could cost around US$86 billion if and when they are approved.
By comparison, Europe's Channel Tunnel connecting France and the U.K. stretches 50.5 kilometers and cost roughly US$15 billion.