Op-Ed Commentary: Chris Devonshire-Ellis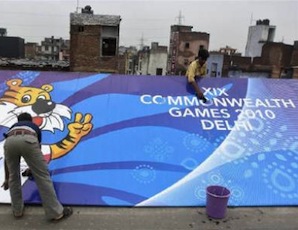 Sept. 23 – As the last minutes tick away for India to knock the Commonwealth Games into shape, one has to wonder at the cause of what it has become obvious is a major failing within the Indian political system. With a 48 hour deadline imposed for Delhi to get its act together or risk having the Games canceled – an unimaginable disaster for the national prestige – a self analysis over what has gone so badly wrong needs to be undertaken. Should the Games fail, it is also indicative of the failings of the "world's largest democracy," a label India wears with pride but is apparently unable to use properly to advance the nation into the 21st century.
A core issue may well be the "tamboo" mentality when it comes to the Commonwealth Games. As a one-off event, it may be likened to the tamboo, or tent, that many Indians erect on days of pageantry such as weddings or similar society events. Erected for a short time, put up on a temporary basis, then pulled back down again when everyone goes home, this tent mentality appears to be the type of attitude that many have attributed to the Commonwealth Games. Yet that is simply not sufficient for a sporting event that attracts participants from over 70 nations and territories and sees thousands of participating athletes.
India's politicians have certainly dithered. Awarded the Games in 2003, serious work did not begin on venues and infrastructure until five years later. That has left the country way behind in construction and organization, and has apparently led to shortcuts being taken in construction. An access bridge collapsed last week, injuring over 30 workers, some critically, while part of the roof of the boxing and wrestling arena collapsed two days ago. The athletes' vllage has been described as "uninhabitable" by many observers. Hardly surprisingly, individual athletes are beginning to withdraw; they may well be followed by national teams.
No doubt fingers will be pointed and people will blame each other. But the political wrangling, corruption and utter incompetence demonstrated by those responsible should not go unpunished. If by some miracle the Games do manage to proceed without hitch, and that's looking increasingly unlikely, then nothing less than the resignations of everyone from the minister of sports to the head of the organizing committee, Suresh Kalmadi, plus all associated with them should be demanded. Investigations into alleged corruption should not just stop at lower ranking officials either, and if those at the very top are found complicit they should be put on trial and jailed.
The debacle is certain to roll on and on. If the worst does happen, then it may yet prove a blessing in disguise for India to root out the incompetence of its politicians, seemingly more interested in using the Games for personal profit than for national prestige. After all, who cares if the Games doesn't actually take place if corrupt money for construction contracts has already flowed into offshore bank accounts? For many, the Games has already been a success in terms of personal enrichment. That mentality deserves to be punished. In China, the death penalty would apply.
The government will need to take a very strong stance indeed if this gift to the nation is not to have been frittered away by the tamboo politicians who only saw it as a means to lining their bank accounts at the expense of gaining a great international honor and prestige. If true, such individuals are not Indians, they are parasites. The strongest punishments should apply.
Chris Devonshire-Ellis is the principal and founding partner of Dezan Shira & Associates, establishing the firm's China practice in 1992 and the India practice in 2007. The firm now has ten offices in China and five in India. For advice over China-India strategy, trade, investment, legal and tax matters please contact the firm at [email protected]. The firm's brochure may be downloaded here. Chris also contributes to Asia Briefing's other titles, India Briefing, China Briefing and Vietnam Briefing.