By Christian Fleming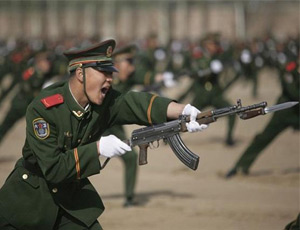 Sept 23 – In a report titled "Global Governance 2025," experts from the U.S. National Intelligence Council and the European Union's Institute for Security Studies project that by 2025 the United States will maintain its lead in the world power structure, but will have lost considerable ground to the next two countries on the list – emerging Asian forces China and India.
The 82-page report highlights several current and growing global threats, including climate change, economic issues, terrorism, competition for resources, and infectious diseases.
In judging the outcomes of these collective issues, the report outlines several potential scenarios that could take place by 2025, suggesting that the most likely structure in global governance will be "barely keeping afloat," in which ad hoc institutions and solutions will be applied as new issues arise.
Experts also weigh in on rising powers China and India, defining their world views, as well as looking at their respective economic, political, and social environments. The two emerging Asian economies are sure to wield a significant amount of influence in the coming years, although the report warns that such clout will not necessarily facilitate global governance.
In particular, it is hard to determine if China, a country focused on domestic development, will take on more global responsibility as its economy continues to grow at a rapid pace. With its global governance shares wavering around 13 percent, and expected to hit 16 percent by 2025, China's rising position indicates that its role in global governance will be crucial.
The report also brings to light certain hindrances to China's collaboration in global governance, such as the lack of political will and the competition for resources, which has become evident in the recent China-Japan dispute over a gas-rich patch of islands in the East China Sea.
India, currently holding roughly 8 percent of global governance shares and forecasted to increase its shares to 10 percent by 2025, seeks reassurances for stability and equilibrium in the region, and pushes for better-equipped global governance institutions.
Quoting Indian experts, the report opines that India, unlike China, would prefer that the West maintain its dominance in the Asia region. As the world's second-most populous country (after China), with approximately 1.18 billion people, India fears that conflict resulting from competition for scarce resources and diminishing Western power in the region could spark conflict and obstruct solutions to global issues.
"Global Governance 2025" provides no such reassurances. The report concludes that while fragmentation of global governance institutions is not the most likely scenario, issues arising from a dearth of political will, conflicting worldviews, lack of institutional resources, and other hindrances will provide rough challenges for building up cooperation in global governance.