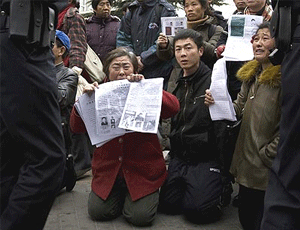 Sept. 28 – Pointing to improved living standards and other economic indicators, the Chinese government released a report on Sunday illustrating the country's progress on issues involving human rights.
The report, titled "Progress in China's Human Rights in 2009," highlighted its RMB4 trillion (US$586 billion) economic stimulus package that helped the country recover from the Global Financial Crisis, but focused little on improving the rights and freedoms of its citizens.
Some believe that the report's contents reflect a difference in the way China and the West understand the concept of human rights. While the report notes that 97 percent of the population received television broadcasts in the last year and that car ownership has expanded 28.6 percent by the end of 2009, human rights activists are angered by China's failure to mention key issues like censorship, property rights, freedom of thought, freedom of religion, or the jailing of political dissidents like as Liu Xiaobo.
Human Rights Watch, an international rights group, described the government's assessment as unrealistic. The group's director Sophie Richardson said the report "is at best a missed opportunity and at worst a clumsy whitewash by failing to render a realistic assessment of China's human rights problems."
Human Rights Watch contends that the report fails to mention tighter controls on freedom of speech and increased restrictions on the Internet and media in China since the 2008 Beijing Olympics.
Instead, the report shows that per capita income rose 8.5 percent in 2009 for rural residents and 9.8 percent for urban dwellers and that spending on health services and education has increased.