Mumbai outperforms Shanghai by a factor of four
Op-Ed Commentary: Chris Devonshire-Ellis
Oct. 22 – The largest coal mining company in the world, Coal India, launched their IPO this week, open both to institutional investors and the public at large. The offering, also India's largest ever, signals another way in which India differs from China.
Coal India has long been a wholly state-owned enterprise, and now it's partially public. Although the government still owns about 90 percent of the company, the longer term strategy in India is controlled divestment. Coal India's success is likely to encourage the government in this regard – it needs to raise serious capital to pay for national infrastructure development in other areas. India's government is doing something that China's is not, it's getting out of business. In terms of success, the offering was over-subscribed by 15 times.
It's a mind-boggling testimony to the amount of money floating around in Indian markets, the hunger for good stocks, and the sheer euphoria about the India story, which is also reflected in the fact that Mumbai's Sensex also closed up 388 points on Thursday, the final day of the offering. The success of Coal India also sets an impressive benchmark for Indian prime companies like SAIL, Hindustan Copper, Manganese Ore and Power Grid which are also lined up to tap the capital markets in coming months. To put what has just happened in India with the Coal India IPO into further perspective, the amount of money that flowed into the offering over the past four days is more than last year's GDP of about 140 countries. Closer to India, it is more than the GDP of Sri Lanka (US$42 billion) and four times that of Nepal (US$12.5 billion).
Of course, China plays have seen this before in the form of massive IPOs for its banks, energy companies and so on. In comparison to some of the China IPOs, even the Coal India offering can appear small. But closer inspection reveals a rather different background between Indian listings and Chinese ones.
India differs from China in the quality of its offerings in several respects. Firstly, the government has instigated an independent watchdog, while China's is state controlled. When disputes arise, India has an independent judiciary, while China does not. This means suing a company in India, even one fully or partly owned by the government, is a case that will be heard and, if the government is found lacking, will be independently brought to account. Try that in China, and not only will you not have the case heard, but you're also likely to end up in prison. The appalling cover up of China's melamine scandal, which was essentially due to corruption at state-owned enterprises in the dairy industry that resulted in the deaths of infants, is a case in point. Not one lawsuit was accepted by China's judiciary for compensation-seeking parents, on the basis that doing so would cause "social unrest." Parents that pushed the envelope too far in this matter were detained.
China's government is also very much involved in its businesses. State-owned enterprises dominate the Shanghai and Shenzhen exchanges, and Hong Kong's famed "red chip" plays are also nearly all fully or partly owned by the state. About 90 percent of companies listed in China are partially or fully state owned. In India, about 90 percent are totally privately held. India is selling off the "family silver" and is getting out of business. That allows Indian entrepreneurs to do what they do best – manage companies and be entrepreneurial. China's businesses must abide by state policy.

We can also review the performances of each country's related stock exchanges, the Shanghai Composite, made up of the best and biggest mainland China players, and the Mumbai Sensex, India's equivalent.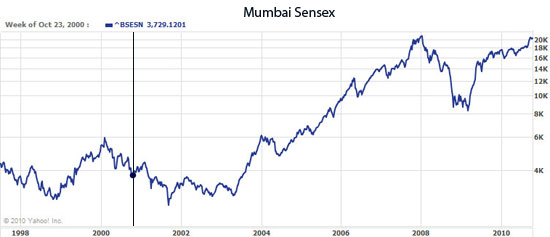 The above figures are especially telling as Mumbai has far outperformed Shanghai, even while China has boomed over the past decade. Mumbai's boom time is arguably still to arrive. Successful IPOs and listed companies are that way due to the competence of their management. When one examines the infrastructure differences between the mechanisms in place between China and India's stock market environment, they could not be more dissimilar. India is already ahead in terms of performance, and as India's government prepares more state owned corporations for public offerings, the superiority of the Indian model over the Chinese in terms of developing successful corporate businesses for the future will only become more pronounced. Investing in India funds makes a lot of sense right now.
Chris Devonshire-Ellis is the principal and founding partner of Dezan Shira & Associates, establishing the firm's China practice in 1992 and the India practice in 2007. The firm now has ten offices in China and five in India. For advice over China-India strategy, trade, investment, legal and tax matters please contact the firm at [email protected]. The firm's brochure may be downloaded here. Chris also contributes to Asia Briefing's other titles, India Briefing, China Briefing and Vietnam Briefing.
Related Reading
China's Real Estate Market Still Cause for Concern