Op-Ed Commentary: Chris Devonshire-Ellis
Oct. 26 – While Asia continues its rapid transformation, many people are still playing Nero, fiddling while Rome burns. They are content to have been part of the new emerging Asia – sitting in swanky restaurants in Shanghai and declaring themselves the cutting edge of the world's second largest economy. When I mention India, the conversation always drifts towards the dirt, the poverty, the lack of infrastructure, and the lack of…well just about everything.
Although there is dirt, poverty, a lack of infrastructure and all the problems associated with a country of 1.2 billion people, things in India are changing rapidly. I recall Shanghai being closed by 9pm, and foreigners not being allowed to walk the streets. I recall the airport express way to Beijing having donkeys and carts trotting along it. I recall everyone in blue Mao suits and when a pair of Levis was a massive statement of fashion. I recall Marlboro cigarettes and Johnnie Walker Red Label being sold as luxury items. What has happened in China has not just been a matter of development, it's also been a change in perception. Fifteen years ago, Shanghai was half asleep, now it's a glamorous, sophisticated city everyone wants to be seen in. But what of India? People roll their eyes and say the mantra… "Poor. Dirty. No Infrastructure." But in fact, it's just like China used to be.
Here is a photo essay that perhaps may help change those perceptions and provide an alternative view to what is going there – for India is doing a China, and is massively upgrading.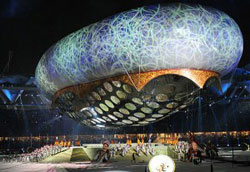 What is it?
The Commonwealth Games weren't all bad. In fact once they got underway it was fine. This is the Aerostat, a helium-filled, laser beam zapping, image-intensifying massive events projector that displayed replays, scores and events across Delhi's excellent stadium. Have you ever seen anything like that? Hi-tech India at its best.
What is it?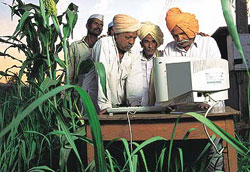 Indian farmers online and equipped with mobile phone and computers, making it possible for them to get the best daily price for their crops. Internet usage accounts for 85 percent of Indian mobile phone traffic. India represents the world's fastest growing telecommunications network and is second only to China in total mobile phone users. India also has some of the lowest call rates in the world. The power of communications is enriching people's lives.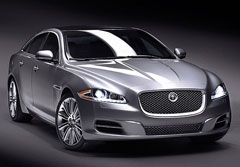 What is it?
It's the new Jaguar XJ. While China's Geely bought Volvo, India's Tata bought Jaguar, and Land Rover just for good measure. Tata is currently looking for a manufacturing and sales partner for its Jaguar and Land Rover brands in China. No offense, but I'd rather cry in the back seat of a Jaguar than be happy in the front seat of a Volvo.
What is it?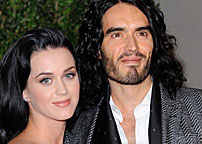 It's Russell Brand and Katy Perry, who just got married in India, at the luxurious Aman-i-Khas resort near the Ranthambhore Tiger Sanctuary in Rajasthan. Apparently, the groom rode into the ceremony on a horse, flanked by camels and elephants. No one does sheer opulence or grandeur like the Indians, and probably not quite the exotic romance either. The Brand-Perry ceremony follows a recent slew of celebrity weddings held in the country.
What is it?


A bottle of Marquise de Pompadour, Indian sparkling wine, from Chateau Indage. A wine so good, that under its export brand, "Omar Khyyam," Chris Patten used to serve it as a tipple at Government House in Hong Kong. Invested in by Moet & Chandon, it's a refreshing bubbly on a sultry evening in Bombay. India's domestic wine industry is relatively young, but the terroir at altitude lends itself very well to certain wines. A decent red? Sula Vineyards "Dindori" will knock spots off any Chinese wine.
What is it?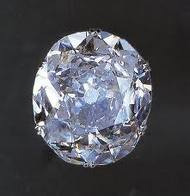 The Koh-I-Noor Diamond. Now part of the British Royal Family's Crown Jewels, it was mined from the famed Golconda mines sometime in the 1300s. Weighing in at 103 carats, it was until recently the largest diamond ever found. India cuts and processes 90 percent of all gemstones globally, and has just opened the world's largest diamond trading bourse.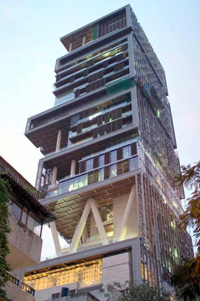 What is it?
It's the world's most expensive house, built by billionaire Mukesh Ambani of Reliance Industries. A 27-story state-of-the-art, 400,000 square foot building worth US$1 billion in the heart of Mumbai, it features three helicopter pads, underground parking for 160 cars, a gym, a dance studio, a ballroom, lounges, a 50-seat movie theatre, an elevated garden with enough room to plant a small forest, and a staff of 600 to maintain all the facilities. He moved in last week.
What is it?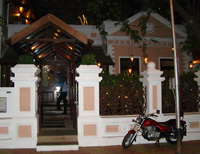 Indigo. Operated by well-known restaurateur-chef Rahul Akerkar, it tops every food critic's A-list and has been listed by Condé Nast Traveler as one of the 60 best restaurants in the world. Angelina Jolie, Brad Pitt, Liz Hurley, the Clintons, and every other international celebrity passing through Mumbai stop here. I recommend sitting upstairs in the open-air terrace with its Frangipani trees, and trying the Pomegranate Martini before tucking into one of the best fusion menus worldwide.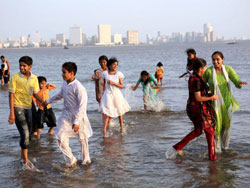 What is it?
It's Chowpatty Beach in Mumbai. Cleaned daily, one can literally just walk out of their office and go for a paddle. Strolling along Chowpatty in the evening is essential for any trip to Mumbai. That's the Nariman Point business district in the background.
What is it?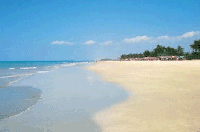 Varca Beach in Goa. Just an hours flight from Mumbai, Goa has over sixty miles of largely unspoilt beaches – but plenty of nightlife too if you want to hang out. China's Sanya suffers from the relative shallowness of the South China Sea, but India's coastline with the Indian Ocean is long, mostly unspoilt, deserted, and offers plenty of options for beach vacations in a manner China can only dream about.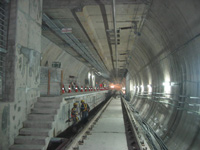 What is it?
Delhi's expanding metro system. Six lines, 153 kilometers with 130 stations, 1.4 million commuters daily. India's currently building metros in another 40 major cities. The future plans for the Delhi metro call for 14 more routes by 2020, adding an additional 180 kilometers of track to the system. That infrastructure issue…Metroheads can go here for the details on Delhi.
What is it?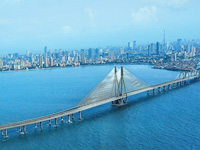 The Bandra-Worli sealink in Mumbai. While Shanghai has bridges across the Huangpu River, Mumbai has eight bays across the Indian Ocean. Constructing bridges across tidal salt-water is rather more complex than across even a large river. This reduces the time taken to get from old Mumbai's CBD (Colaba area) to its new (Bandra) from 2 hours to 25 minutes.
In short, just as China used to be perceived as backward, unfriendly, full of bicycles and cheap knockoffs, so those images have begun to be taken over by perceptions of expense, quality and reliability. India is changing too, and for the better. These images, all gathered within the past six months, tell that the perceptions of India are also changing, and in many cases, just as much or in even more spectacular a manner than China. India still has a way to go, but as I have said many times, "infrastructure is the opportunity" – just as it was in China – and those old perceptions of the country being backward, dirty, poor and decrepit are as outmoded as images of the Chinese quoting passages from Mao's Little Red book.
Chris Devonshire-Ellis is the principal and founding partner of Dezan Shira & Associates, establishing the firm's China practice in 1992 and the India practice in 2007. The firm now has ten offices in China and five in India. For advice over China-India strategy, trade, investment, legal and tax matters please contact the firm at [email protected]. The firm's brochure may be downloaded here. Chris also contributes to Asia Briefing's other titles, India Briefing, China Briefing and Vietnam Briefing.
Related Reading
Relocating From China to India: What to Expect

An Expatriate Manager's Introduction to India
From key country facts and figures to the country to cultural etiquette and communication issues, we take a look at one of the fasting growing destinations for foreign investment. US$10.