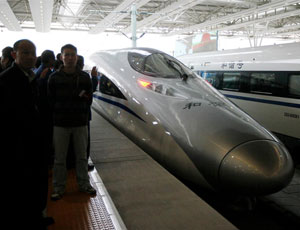 Oct. 27 – Operating at speeds of up to 350 kilometers per hour (220 miles per hour), China's domestically built CRH380 train began service between Shanghai and Hangzhou on Tuesday.
The new US$4.4 billion ultra high-speed railway cuts the previous transit time in half, making the 202 kilometer run from Shanghai's new Hongqiao Railway Station to Hangzhou Station in about 45 minutes.
During testing, the CRH380 was clocked at 420 kilometers per hour (262 mph), setting a new world record. The achievement is a well-deserved victory for China's ambitious high-speed rail program which is expected to have 42 passenger rail lines and a total track length of 13,000 kilometers by 2012.
Included in that 2012 forecast is the US$32.5 billion, 1,318-kilometer (824 mile) Beijing-to-Shanghai high-speed rail project that will cut the travel time between the nation's political and commercial centers to just under four hours.
Wang Yongping, spokesman for China's Railway Ministry, said that all the technology, design and equipment used to construct the CRH380 is China's own, but he acknowledged that the program began in cooperation with Japan and other countries.
"Now other countries are wanting to cooperate with us. They all want our technology," Wang told reporters on Tuesday.
Tickets for the new Shanghai-to-Hangzhou high-speed rail went on sale last Friday at RMB82 for a 2nd class seat and RMB131 for a 1st class ticket departing from Shanghai's Hongqiao Railway station 45 times daily. Prices go up to RMB98 for a 2nd class seat and RMB156 for 1st class tickets during the five daily trips that leave from Shanghai Station (07:50, 09:01, 14:50, 18:29, and 20:19).
Rail travel is the preferred mode of transportation for many Chinese, so the country's efforts to replace outdated, slower trains with new high-speed rail systems are well intended, and necessary. But escalating train fares have prompted complaints from some passengers who would rather forgo the speedy transit in exchange for a cheaper ticket.