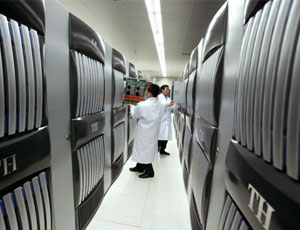 Oct. 28 – A new supercomputer built in China is poised to take the number one spot in the twice-yearly Top 500 list of the world's fastest supercomputers scheduled to be released in November.
Previously ranked seventh when the index was last released in June, China's Tianhe-1A can now reach sustained performance levels of 2.507 petaflops – 43 percent faster than any other known supercomputer.
In fact, the Tianhe-1A was not even the fastest supercomputer in China in the last Top 500 list. That award went to the country's Nebulae supercomputer based in Shenzhen, which recorded performance levels of 1.271 petaflops, a surprise second in the global index trailing only the U.S.-based Cray Jaguar system's 1.75 petaflops.
The ultra-fast Tianhe-1A computing system, designed by China's National University of Defense Technology and located at the National Supercomputing Center in Tianjin, generates its power from 7,168 Nvidia Tesla M2050 graphics processing units and 14,336 Intel chips. It has the computing power equivalent of 175,000 laptops and is three times more power efficient than current systems, according to Nvidia, which has already dubbed it "the fastest system in China and in the world today."
In addition, the supercomputer has a theoretical performance of 4.669 petaflops when all its graphics processing units are operational, according to a Nvidia spokesman.
"I don't know of another system that is going to be anywhere near the performance and the power of this machine," said Jack Dongarra, a U.S. supercomputer expert who has overseen the Top 500 index since it was first established in 1993 and who inspected China's new system in Tianjin last week. "It is quite impressive."
China will utilize the Tianhe-1A as an "open access" system, available to other countries and organizations to use for large scale scientific projects and computations, according to Ujesh Desai, Nvidia's vice president of product marketing.
Supercomputers are used for complex research simulations covering climate change modeling, genomics, seismic imaging, military design and code breaking.
Related Reading
China has World's Second Fastest Computer, India Lags Behind