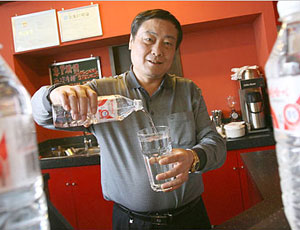 Oct. 28 – The 2010 Forbes China Rich List, released on Thursday, reveals the entrance of 49 members into the burgeoning ranks of U.S. dollar billionaires in China, raising the total number to 128.
Zong Qinghou, chairman of the beverage giant Wahaha, tops the list with a US$8 billion net worth, up from $4.8 billion last year.
Roughly 30 years after the introduction of Deng Xiaoping's pro-market policies, China's economy is grown to become the second largest in the world and the number of U.S. dollar billionaires in China is now second only to that of the United States.
Shenzhen is the country's largest source of high net worth individuals, boasting 17 billionaires, Beijing is a close second with 15, and Shanghai comes in at third with 10. Nine are below the age of 40, and 11 of China's billionaires are women.
Interestingly, Forbes reports that a tenth of the 400 richest Chinese have earned their fortune through China's healthcare sector—a stark contrast from previous years where most wealthy Chinese have earned their money through real estate. Lu Zhiqiang of Oceanwide Construction exemplified this shift, falling 15 spots to number 31 as his net worth shrunk by roughly US$500 million this year to US$2.15 billion.
"China is leading the world in initial public offerings this year, and the big increases in wealth and the number of billionaires on our list this year are closely linked to a large number of successful IPOs by Chinese companies," explained Forbes Senior Editor Russell Flannery, who compiled the list.
Asia in general has performed well this year. Although the United States has seen its representation among the world's richest decline slightly, Asia just added 104 billionaire tycoons to the world list.
"The strong entrepreneurial spirit, buoyant stock and asset markets, China's sustained economic growth, as well as the appreciation of the renminbi, are going to produce an even bigger number of billionaires at a stunning pace in the years to come," Zhou Jiangong, editor-in-chief of Forbes China, said in a press release.
In addition, opaque accounting practices and the difficulty of correctly valuing unlisted, privately held companies may mean that there are many more billionaires in emerging Asia than the report suggests.