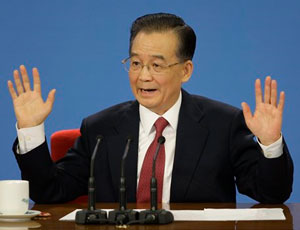 October 29 – People's Daily, the newspaper of the Communist Party in China, published a front-page editorial on Wednesday offhandedly criticizing Chinese Premier Wen Jiabao, and drawing attention to the Communist Party's little-known internal debate on the direction of national policy.
The article seemed to take a jab at Wen's past comments on democratic political reform, citing that his views are not in line with the Party's ideals and too often look toward Western models of governance in structuring such political reform, which Wen has said must accompany China's swift economic development.
Though the commentary does not name Wen as the target of its criticisms, the article openly challenges Wen's stance on reform, stating that economic growth in China does not necessitate democratic political reform. It emphasizes the Party's need to be attentive to its own pace of reform while not bowing to Western political pressures.
Though not to be overemphasized, the editorial provides a small glimpse into what goes on behind closed doors during the Party's many planning committees, and fuels ongoing speculation about the pace and nature of political reform in China. It also might suggest that splits in the Party may be more prominent than what is popularly believed.
"It does appear to be a direct swipe at Wen's statements," says David Shambaugh, an eminent China scholar and head of the China Policy Program at Washington D.C.'s Georgetown Washington University. "It is more evidence of a division of views within higher levels of the party on the scope and pace of 'democratic' reform."
The Chinese Communist Party's formal stance calls for the development of capitalism and democracy "with Chinese characteristics," terms that do not concretely indicate the trajectory of Chinese political development. Therefore, Wen's somewhat out-of-line comments may have little bearing on Chinese domestic policy, but more interestingly point to the divergence of interests and values within the Party itself.