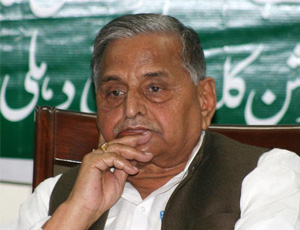 Nov. 10 – India's government has agreed to discuss the possibility of a surprise "Chinese incursion" after former defense minister Mulayam Singh Yadav stated on Tuesday that he had definitive information supporting such a scenario taking place "soon."
"It [China] is completing preparations for an attack… it is going to attack soon… the attack may come anytime," he said during the winter session of India's Parliament on Tuesday morning.
"China is laying claim on several of our states including Arunachal Pradesh, Himachal Pradesh and Uttarakhand besides the Ladakh Region," he said. "China is encroaching on our land and we are doing nothing."
Yadav, who is now the leader of India's Samajwadi Party, used the 1962 Sino-Indian Border Conflict as the backdrop for his allegations and warned the Indian government to keep this aggression in view going forward.
"China has invaded India in 1962 too and grabbed lakhs of kilometers of our land," he said during zero hour of the meeting when he was allowed to speak. One lakh equals 100,000. "Lakhs of kilometers of Indian territory are still under Chinese occupation and our subsequent governments have not been able to take that back."
Yadav did not provide any supporting evidence to substantiate his claims of a looming Chinese invasion, except to point out that China has built four and eight-lane highways along its territory close to the Indian border.
He also said that recent remarks by India's Chief of Army Staff General VK Singh regarding China's infrastructure development near the Indian border validated his statement.
"China is doing a great amount of infrastructure development, which it says is for locals of the area. No bones about it, no crib about it. But our problem is we are not very sure about the intentions. And when intentions change, with this capability, things can go wrong. And that is what is a matter of concern," General Singh said.
The general also said that a repeat of the 1962 aggression was "never" possible.
Related Reading
China to Build Rail on India's Northeastern Border
Construction Begins on Qinghai-Tibet Railway Extension