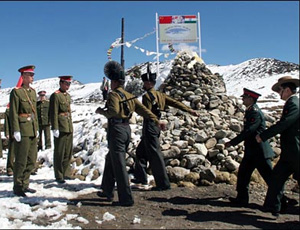 Nov. 29 – China and India have decided to push bilateral boundary talks forward and work on resolutions to the two countries' border disputes.
The Chinese Foreign Ministry announced on November 23 that China and India will hold the 14th round of border talks in Beijing on November 29 to 30, before Premier Wen Jiabao's visit to New Delhi next month. Chinese State Councilor Dai Bingguo and the Indian National Security Advisor Shivshankar Menon will represent their respective countries at the talks.
Discussions focusing on the border issue date back to the 1980s since the two countries normalized their relationship. Two boundary agreements were signed in 1993 and 1996 to "maintain the peace and stability" and "build up trust" between the two neighbors.
In 2005, China and India reached an "Agreement on the Principal Political Guidelines to the Solution of Boundary Issues" after five rounds of talks that started in 2003.
In 2009, the 13th boundary talks were in New Delhi aimed at improving the bilateral dialogue framework.
Chinese Premier Wen Jiabao and Indian Prime Minister Manmohan Singh also touched on the boundary issue on the sidelines of the ASEAN summit in October. Both leaders expressed hope that an early solution to the boundary dispute would be found.
China and India share a 2,000-kilometer-long border and currently have disputes over approximately 125,000 square kilometers of territory.
Related Reading
Former Indian Prime Minister Warns of Imminent Chinese Attack
China to Build Rail on India's Northeastern Border
Construction Begins on Qinghai-Tibet Railway Extension