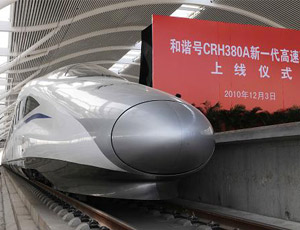 Dec. 3 – A Chinese passenger train sped through a soon-to-be opened set of rails between Beijing and Shanghai, hitting 486 kilometers per hour (302 miles per hour) and breaking the world record in the process.
It was the fastest speed an unmodified commercial passenger train had ever traveled, Xinhua News reported. Other types of trains, though, have traveled faster.
A modified French TGV train reached 574.8 kilometers per hour during a 2007 test, while a Japanese magnetically levitated train sped to 581 kilometers per hour in 2003.
State television showed the Chinese fast-train whipping past farms in eastern China. It reached its top speed on a segment of the 1,318-kilometer-long line between Zaozhuang in Shandong Province and Bengbu in Anhui Province, Xinhua said.
State media reported that the line will open by October 1, 2011, prior to the country's National Holidays. The train will halve current travel times between Beijing and Shanghai from 10 hours to just 5 hours.
The project's total cost is estimated at some US$32.5 billion and is part of a larger move by the government to connect China's many metropolitan centers by high-speed rail and reduce overcrowding on other lines.
China already has the world's longest high-speed rail network by kilometers, and it plans to cover 13,000 kilometers by 2012 and 16,000 kilometers by 2020.
The push to develop high-speed rail technology rivals China's space program in terms of importance and national pride. Railway officials say they want commercial trains to reach speeds over 500 kilometers per hour.
Related Reading
Shanghai to Hangzhou in 45 Minutes Courtesy of World's Fastest Train