Op-Ed Commentary: Chris Devonshire-Ellis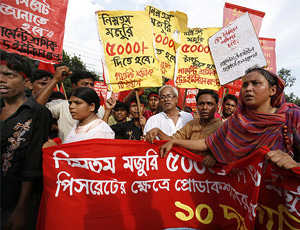 Dec. 14 – The recent riots in Dhaka and Chittagong Port in Bangladesh over salary levels may have implications for potential Chinese labor unrest as well.
The riots, which involved some 4,000 workers in factories in the Chittagong Export Processing Zone alone, left three people dead, 250 injured and hundreds of factory outlets damaged. The main area of activity was focused in the textile industry, Bangladesh's biggest single export earner worth about US$12 billion. Demonstrations turned nasty over the implementation of the new increase in minimum salary levels. Salaries were supposed to rise from an average of US$23 per month to US$43 on December 1, however some processing problems caused the first week's payments, due December 7, to be at the old levels.
The problem has not just been about companies being tardy with increasing the minimum wage. Of greater concern is that in doing so, workers on minimum wage levels found themselves being paid at the increased new minimum wage levels that previously only workers with long experience had been able to attain. That caused problems with the long-term workforce, who hadn't seen any salary increase come into effect but who were now being paid at the same rate as new hires. Much of the rioting was caused not by the lack of implementation, but by the unhappiness of long term workers being paid the same amount as new ones. The violence quickly spread.
The matter has implications for Chinese labor, as China is set to introduce a series of 20 percent annual increments across the board, each year from 2011 to 2015 to effectively double the amount of minimum wage in China within the next five years. If that upsets workers in the same manner as it has in Bangladesh, then manufacturers may face labor unrest from workers who have found their previously higher salary – awarded as a result of length of service – now pegged back to the same level as new hires requiring training.
China HR managers need to take a careful look at the implications of raising the minimum wage in China, and ensuring that staff not currently on this level, but a step or two above, are not impacted adversely by seeing their lower skilled counterparts suddenly be awarded 20 percent increases in salary. The spark of dissent exists within minimum wage increases – as Bangladesh factory owners have just learned to their cost.