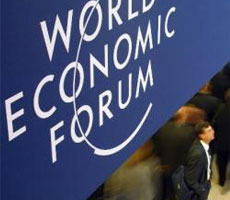 Jan. 30 – Emerging economies such as China, India and Brazil are among the popular crowd at the World Economic Forum in Davos, Switzerland. While the 2010 forum was filled with ire directed towards the bankers of the world, this year's forum is focused on the role emerging markets will play in the future.
The biggest issue for emerging market economies in the months to come is that they could be growing too quickly, generating inflation and regional macroeconomic instability.
While the developed economies of the world will grow at a sluggish 2.5 percent in the next two years, the world, led by China and India in particular, will expand by 4.5, according to the International Monetary Fund.
Other emerging economies such as Indonesia and Russia are also making their presence felt at Davos. Russian President Dmitry Medvedev delivered the keynote address at the WEF, pledging that Russia will grow at 10 percent over the next five years, and Susilo Bambang Yudhoyono, president of Indonesia, is also expected to give a special address.
But, the impact of capital inflows, which have led to "currency wars" as emerging markets forcefully resist currency appreciation, remains a central issue for participants and will likely be raised several times throughout the forum's course.
Related Reading