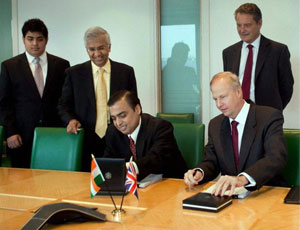 Feb. 22 – London-based energy giant BP is making one of the largest-ever foreign direct investments in India to date in a joint venture with Reliance Industries to explore deep water oil and natural gas resources. BP said on Monday it will pay Reliance Industries US$7.2 billion and performance payments of up to US$1.8 billion if the tie-up leads to the development of commercial discoveries.
"This partnership combines the skills of both companies and will be focused on finding more hydrocarbons in the deep water blocks of India," Mukesh Ambani, chairman and managing director of Reliance Industries, said in a statement. BP will take a 30 percent stake in 23 oil and gas blocks and form a 50:50 joint venture with Reliance for the sourcing and marketing of gas, the companies said. 
"This partnership meets BP's strategy of forming alliances with strong national partners, taking material positions in significant hydrocarbon basins, and increasing our exposure to growing energy markets," BP Chairman Carl-Henric Svanberg said. The companies said the future performance payments and the combined investment could eventually total US$20 billion.
The market welcomed the deal, with analysts highlighting the importance of the tie-up as a sign of investor confidence in India and the country's oil potential.
"It is a big positive in terms of getting foreign direct investment into India. It shows the confidence in India at large and its oil and gas potential," Sandip Sabharwal, CEO of portfolio management services at Prabhudas Lilladher in Mumbai said, adding that others could follow BP's lead.
The move is a vote of confidence for India's energy sector, which has struggled to attract investment due to regulatory uncertainty. A US$9.6 billion bid for control of Cairn Energy's Indian assets by Vedanta Resources has been waiting six months for government approval as royalty payments are hammered out with state-run partner ONGC.
Reliance Industries operates the world's largest refining complex at Jamnagar, with two plants running at a combined capacity of some 1.24 million barrels per day. It has also been buying up shale gas assets in the United States and has interests in petrochemicals and retail, and is now looking at diversifying.
Related Reading


Doing Business in India
Our 156 page guide to establishment, tax, compliance and licensing issues for the foreign investor in India, together with a state-by-state investment overview.

An Expatriate Manager's Introduction to India
Our brief on business etiquette, culture and the work environment for the new to India executive.